Few shows have enjoyed the kind of immediate, deeply invested fanbase that Our Flag Means Death garnered in 2022. This silly, tender, queer pirate show reimagined the legends of notorious pirates Blackbeard (Taika Waititi) and Stede Bonnet (Rhys Darby) in an anachronistic Caribbean. David Jenkins, the beloved director and creator of the show, wrote a love story where these two anti-heroes connect over bloodshed, fancy parties, and wanting to change who they are… and hoping maybe the other person will change with them.
"The Winchesters" Star Meg Donnelly's First Comic Con
Season 2 realizes that when people fall in love with their preconceptions of who you are, that relationship isn't going to last very long. The season starts with Ed and Stede broken up, on different boats, and either struggling to get back to each other or just struggling. Almost the entire crew is back on either one boat or the other, and we get an introduction to a couple new characters–Pirate Queen Zheng Li Sao (Ruibo Qian) absolutely owns seas whenever she shows up, and Vico Ortiz's Jim Jiminez gets (another) love interest.
The second season starts by showing us our two heroes at their lowest. Stede, alone, broke, and absolutely obsessed with getting back to Ed, and Blackbeard snorting coke, drinking heavily, and destroying the only stable relationship he has left–the one between him and his first mate Izzy Hands (Con O'Neill). From the very beginning, this season seems to play to its greatest strength: the fans.
Every episode there was something that made me–an ardent fan of the series–scream aloud. And I need to clarify here: I am a fan. I am involved in fandom. I have written fic, I've tracked down the art, I trade theories with friends, I've made an effort to learn more about the ins and outs of the show and the community that surrounds it because this is what contemporary fandom does, and I am in it. When I say that this show was built from the keel up for the fans, I mean it. Practically every episode of the new season has moments and character climaxes, payoff for references fandom obsessed over in the first season, and more laser-targeted to make Our Flag Means Death's vociferously online fanbase scream with delight (and perhaps occasionally agony, in equal measure. This season of the show is for the fans, and it is not trying to hide it.
For the rest of the folks who are tuning in, the casual fans, the non-fandom OFMD enjoyers, the show is absolutely a step up from season one. I loved season one, but even I'll admit that its strength was in the grace that it handled its subject matter and the fantastic comedic timing of its actors. Season two is more adventure, more drama, and uses its fully realized characters to really push the themes along. The plot still doesn't matter much; this is primarily a story about Ed and Stede, and the people swept up in their romance. Still, season two takes the plot more seriously, bringing in two antagonistic forces (although whether or not they're enemies, per se, is up for debate) in the Pirate Queen Zheng Si Yao and Prince Richard (Errol Shand) to push Ed and Stede along.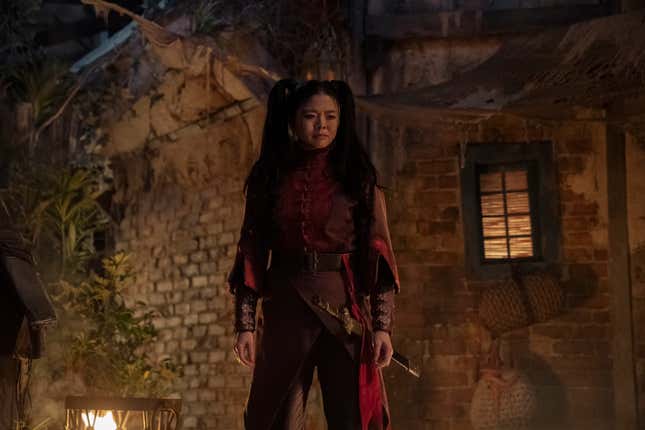 It gives us what is ultimately a more realized world, with deeper character explorations, and a re-focus on the relationships that the series centers on. Izzy Hands becomes a stronger presence, and while he remains the constant punching bag for Ed and the rest of the crew, this time he gets in a few good hits himself. His B-Plot this season is really what ties the season together in a cohesive way, acting as a bridge between Ed and Stede as they fail to communicate in ways that the other can understand.
While season one might have been an exploration of what sorts of love can grow between two people when you meet the right person at the right time, season two brings us crashing back to earth, again. Amid incredible needle drops (Kate Bush gets the post-Stranger Things nod she deserves), it slowly becomes apparent that who Ed wants to be and who Stede wants to be are on opposite ends of the spectrum. Stede, landed gentry turned pirate, and Ed, fearsome pirate trying to contemplate retirement, are maybe not the kind of people who can survive being together. Season two asks if you're willing to have your heart broken, if you're willing to try.
Our Flag Means Death episodes will release weekly on HBO Max, starting October 5.
This piece was written during the 2023 SAG-AFTRA strike. Without the labor of the actors currently on strike, the show being covered here wouldn't exist.
---
Want more io9 news? Check out when to expect the latest Marvel, Star Wars, and Star Trek releases, what's next for the DC Universe on film and TV, and everything you need to know about the future of Doctor Who.



Credit : Source Post