Pet friendly Palm Springs is a winter paradise for everyone who enjoys the outdoors – including your furry travel buddy! In this article we're sharing some of our favorite things to do with the dogs when we're visiting Palm Springs.
With 354 days of sunshine each year and January temps reaching the 70s, Palm Springs is one of our favorite places to chill out while the rest of the country contends with winter's icy grip.
If you're looking for fun things to do with your pets while on vacation in the Coachella Valley, we've gathered some of our favorites. So grab your shades, apply some sunscreen, and make your plans to enjoy this beautiful desert oasis!
Top 10 In Pet Friendly Palm Springs
1. Start With Coffee At Koffi
There are loads of great coffee shops with pet friendly patios around Palm Springs. But we fell in love with the view from the patio at Koffi (1700 S Camino Real). The friendly atmosphere, great selection of baked goods and snacks, free WiFi, and fantastic coffee made this a fun place to hang out.
With the constant stream of traffic, the people- (and dog-) watching is supurb. And the pet friendly patio has several areas, so you can find a sunny spot or a comfortable place in the shade depending on your preference and the time of day.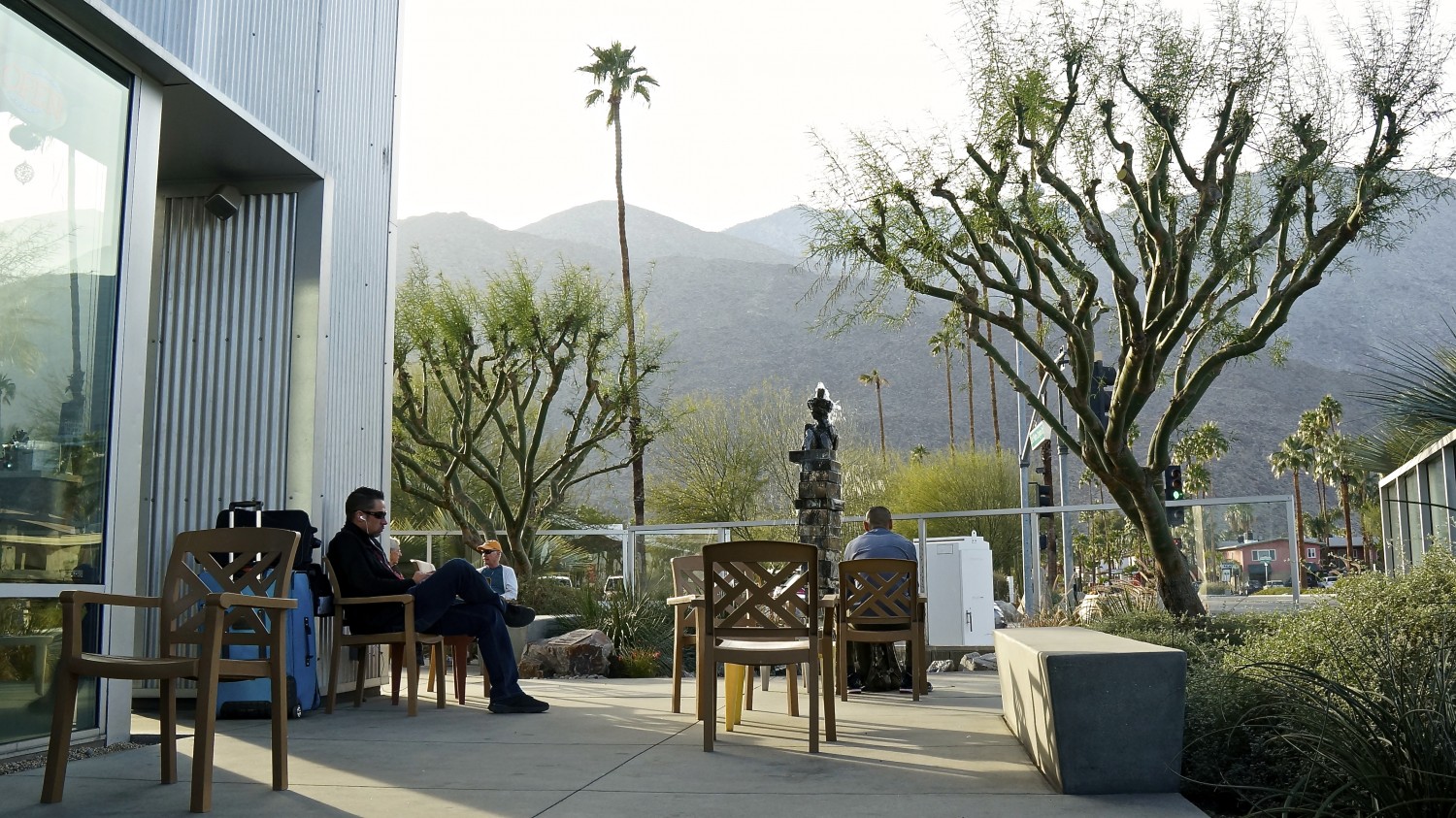 2. Take A Hike At Mission Creek Preserve
Once you've gotten your daily dose of caffeine, it's time for a hike! Head out to Desert Hot Springs for a gorgeous hike in the Mission Creek Preserve. Located between the Sonoran and Mojave deserts, the preserve covers 4,760-acres and protects a variety of flora and fauna representing both habitats. The center of the preserve is a lush wetlands between colorful painted hills with Mount San Gorgonio in the background.
To reach the trailhead, turn onto Mission Creek Road from Highway 62 and follow the dirt lane for 2 miles until reaching a locked gate. Park in the unpaved lot, cross the gate, and set out on the dirt path. The easy trail follows the stream for 1.7 miles to an old stone house and group campground. Another two miles beyond the stone house the trail joins the Pacific Crest Trail.
READ MORE ⇒ 7 Essentials For Desert Hiking With Your Dog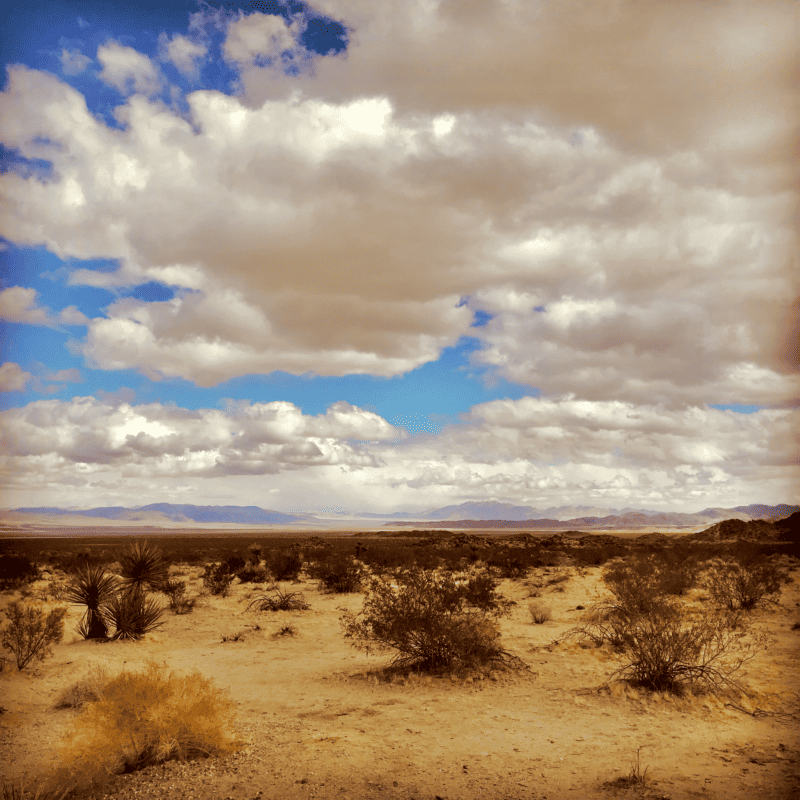 3. Enjoy A Picnic With A View Of The Valley
Pack a picnic and take a short drive south on the Pines to Palms Highway (Hwy 74). The road twists and turns its way to a scenic overlook where the entire Coachella Valley stretches below you.
From here you can see all the way to the Salton Sea! It's a great place to spread your picnic blanket, unpack your lunch, and enjoy the views.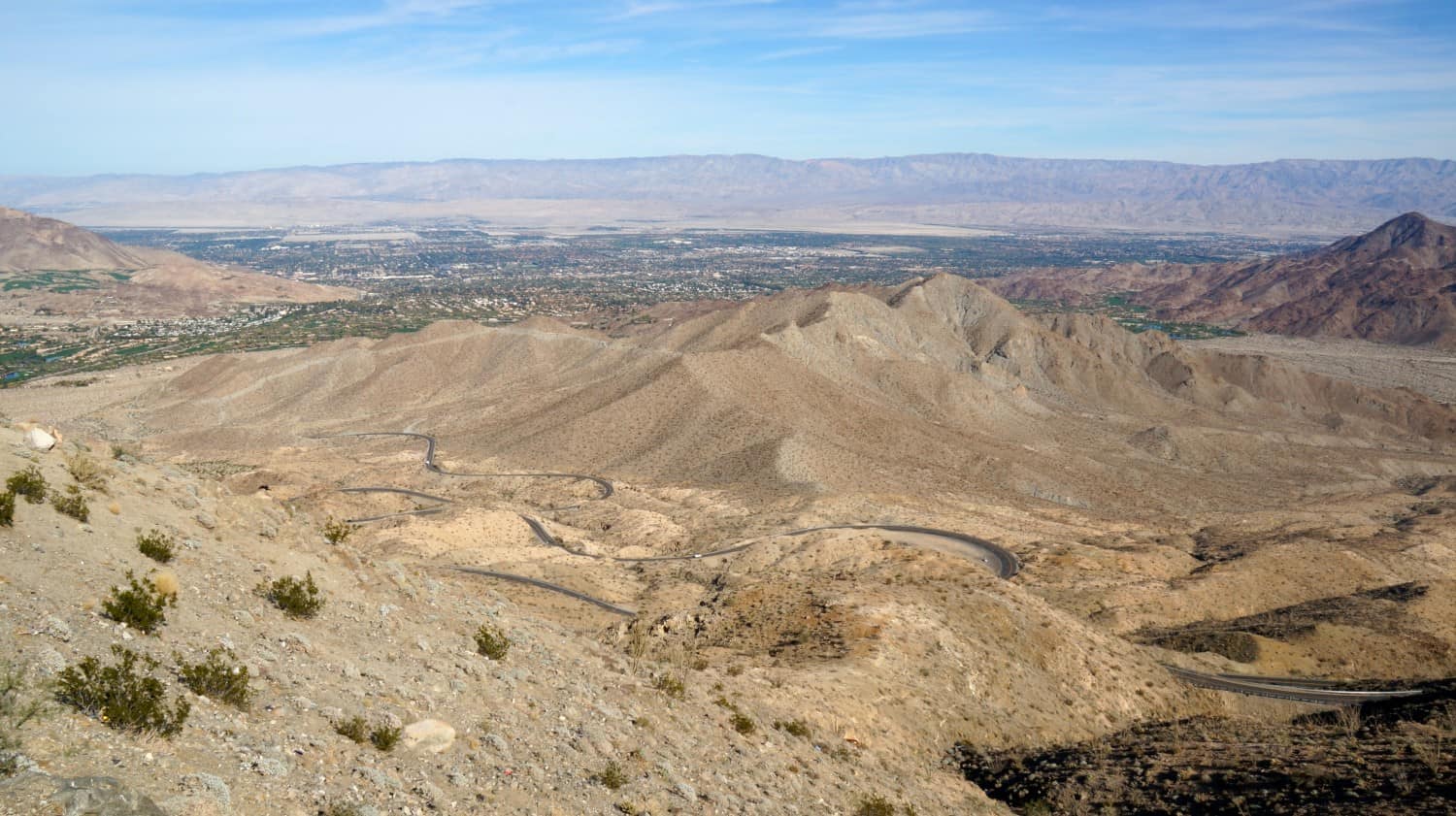 4. Visit The David H. Ready Palm Springs Dog Park
No dog friendly trip to Palm Springs would be complete with out a stop at the dog park (222 Civic Drive North)! The 1.6 acres are divided into separate areas for large and small dogs. And, while it's not huge, there's plenty of room for pups to socialize or have a game of fetch.
The most spectacular part of this dog park is the fence. Sacramento sculptor Phill Evans formed hot-rolled steel bar into cacti, trees, dogs, and a cat to enclose the area.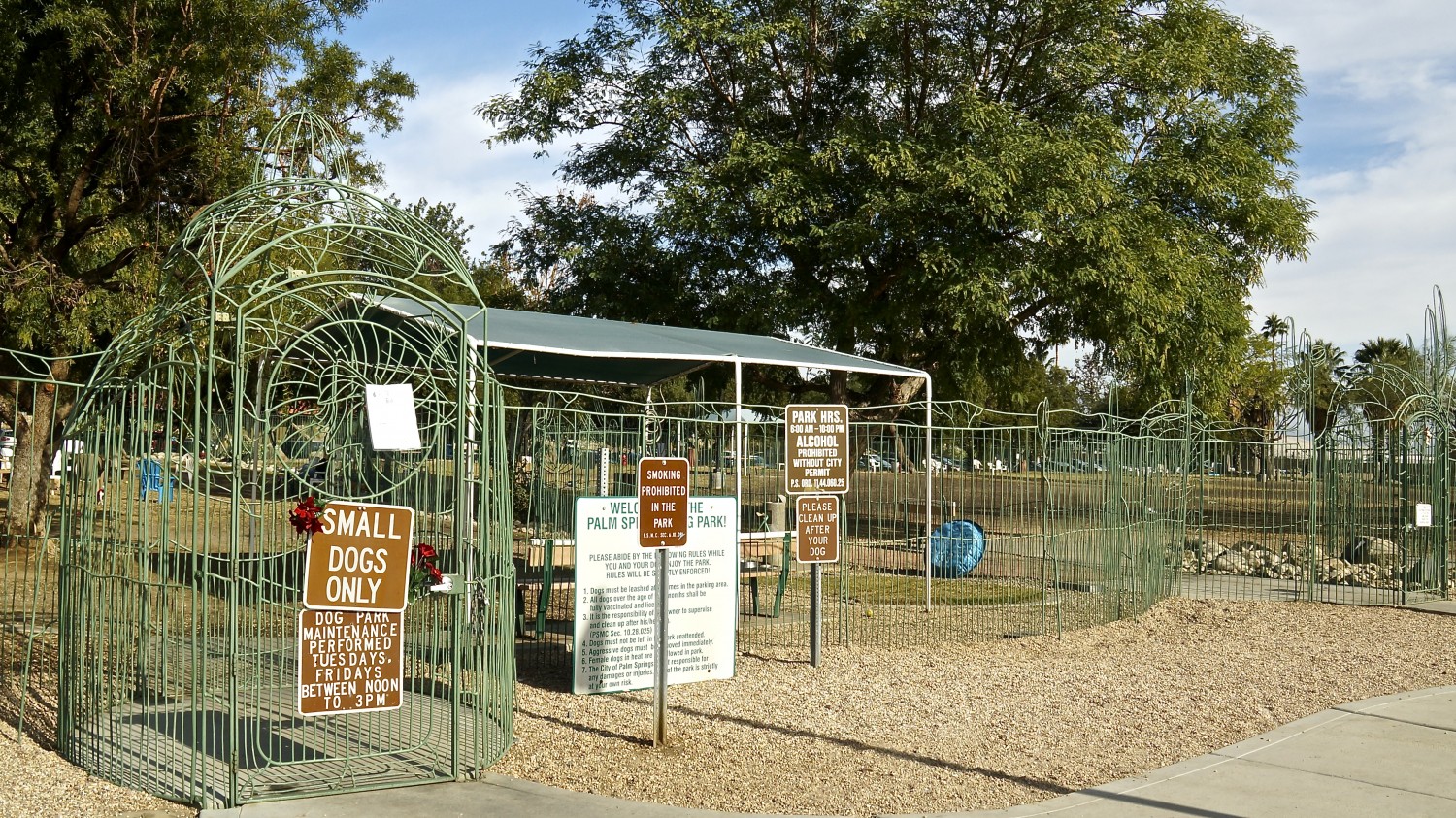 5. Explore The Palm Springs Air Museum
If you're looking for a pet friendly inside activity, the Palm Springs Air Museum is hard to beat. Boasting the world's largest collection of flyable aircraft from WWII, Korea, and Vietnam, its 59 flyable and static planes are displayed inside the four climate-controlled hangers with even more outside on the tarmac. And friendly pets are welcome to enjoy the entire museum with you!
The four hangars are organized by theme, with related exhibits lining the walls. And there are no ropes to keep you from interacting with the exhibits, so you can get a good look at the cockpits and instruments. A number of the aircraft are even open for tours.
EXPLORE MORE ⇒ Pet Friendly Museums To Enjoy With Your Furry Travel Buddy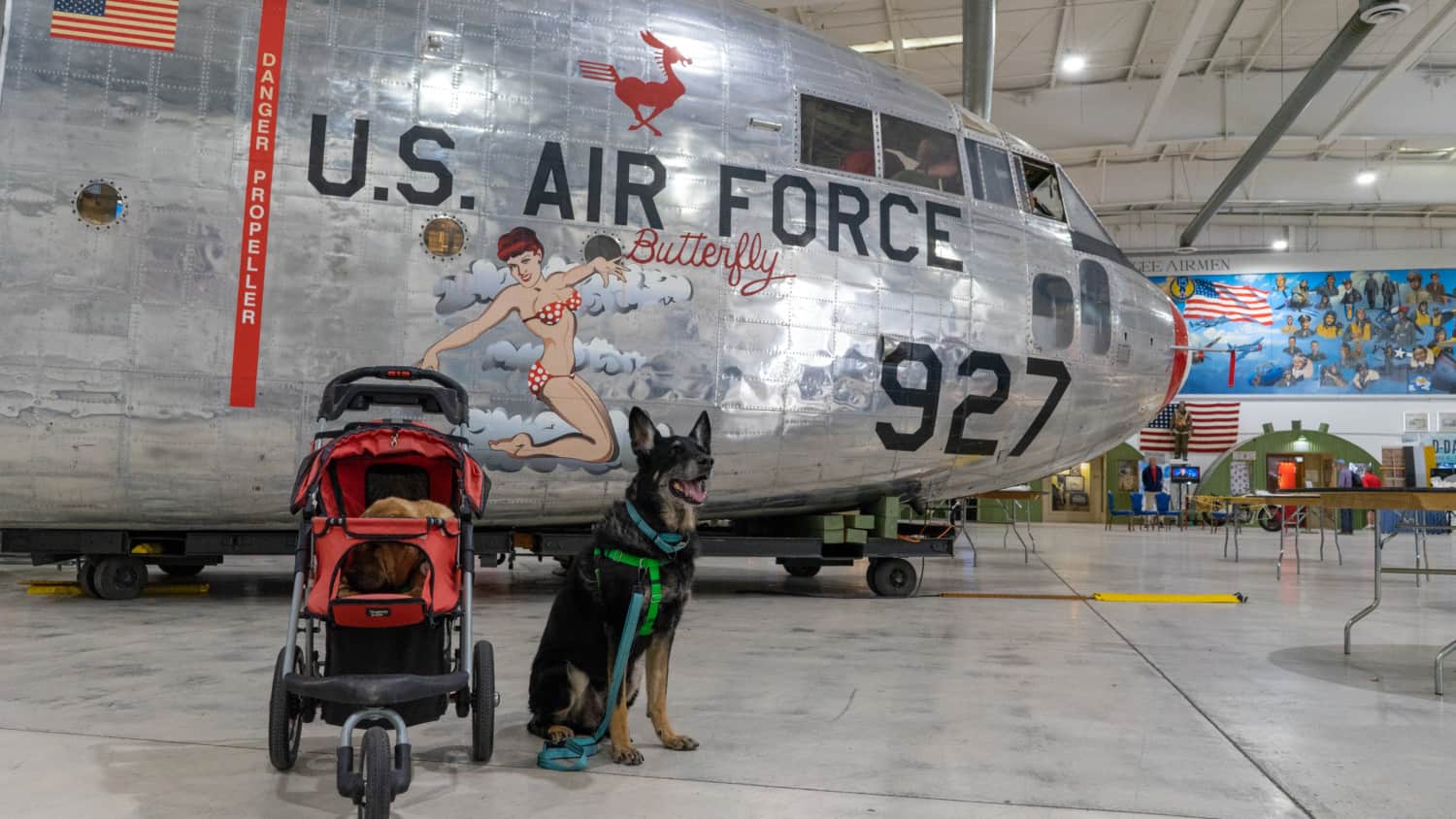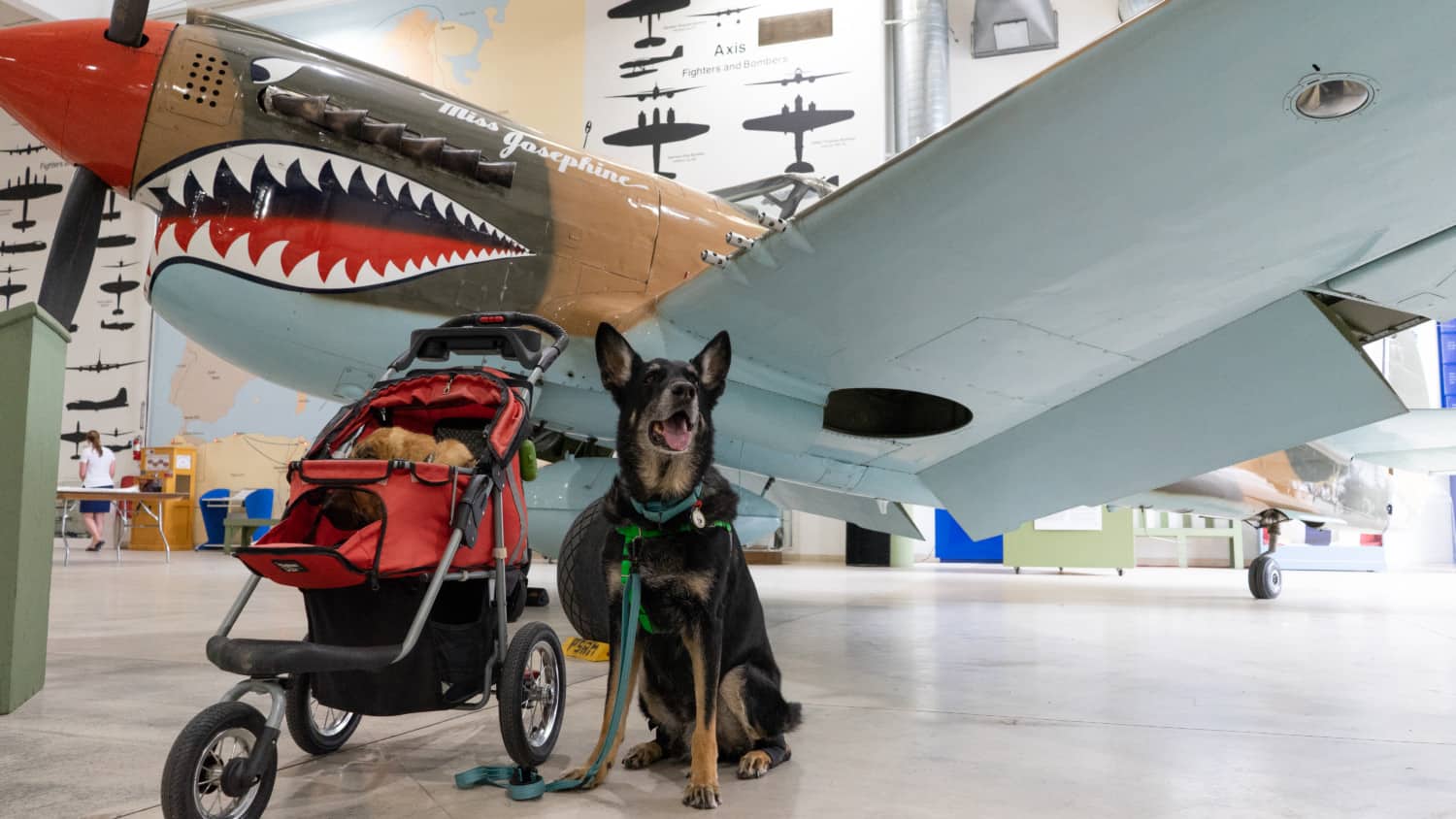 As you roam the 86,000 square feet, be sure to say hello to the museum's friendly docents. Many actually flew these planes and served on the ships.
More aircraft are displayed on the tarmac behind the hangers and on the museum grounds. If the weather cooperates, don't miss the F-16 Fighting Falcon. And you might recognize the F-16, which the U.S. Navy uses at their famous "Top Gun" flying school in Miramar, California.
The museum also hosts a wide variety of programs with guest speakers. So be sure to check their website for scheduled events before your visit. And, if seeing the planes on the ground just isn't enough, you can schedule a ride in one!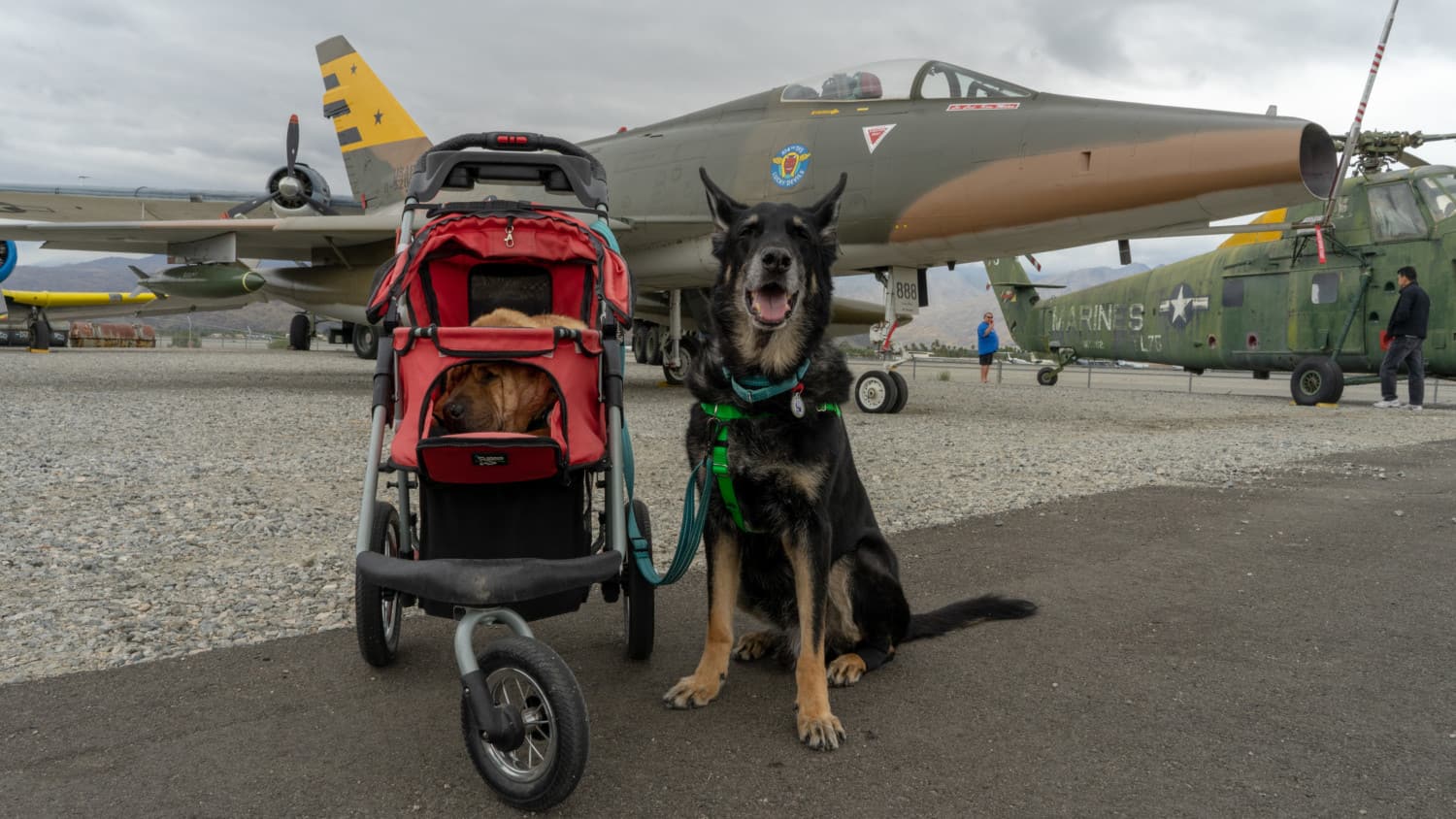 6. Take A Walk On The Pacific Crest Trail
Whether you're into serious hiking, or just want to walk a section of this famous trail, head up Pines to Palms Highway (Hwy 74) to the Pacific Crest Trail trailhead. The PCT crosses Hwy 74 about a mile east of the Paradise Valley Café, which has a lovely dog-friendly patio to get lunch after your hike!
Stretching 2,600 miles from Mexico to Canada, it takes hikers four to six months to compete the PCT. And leashed pets are allowed on most (but not all) of the trail.
Before heading out, know that the PCT is a wilderness trail and signage is kept to a minimum. Signs should be present at all trail junctions and road crossings. Beyond that, there are some "reassurance markers," but you could travel for miles without seeing a PCT symbol. So, it's a good idea to take a map along.
READ MORE ⇒ Answers To FAQs About Hiking With Cats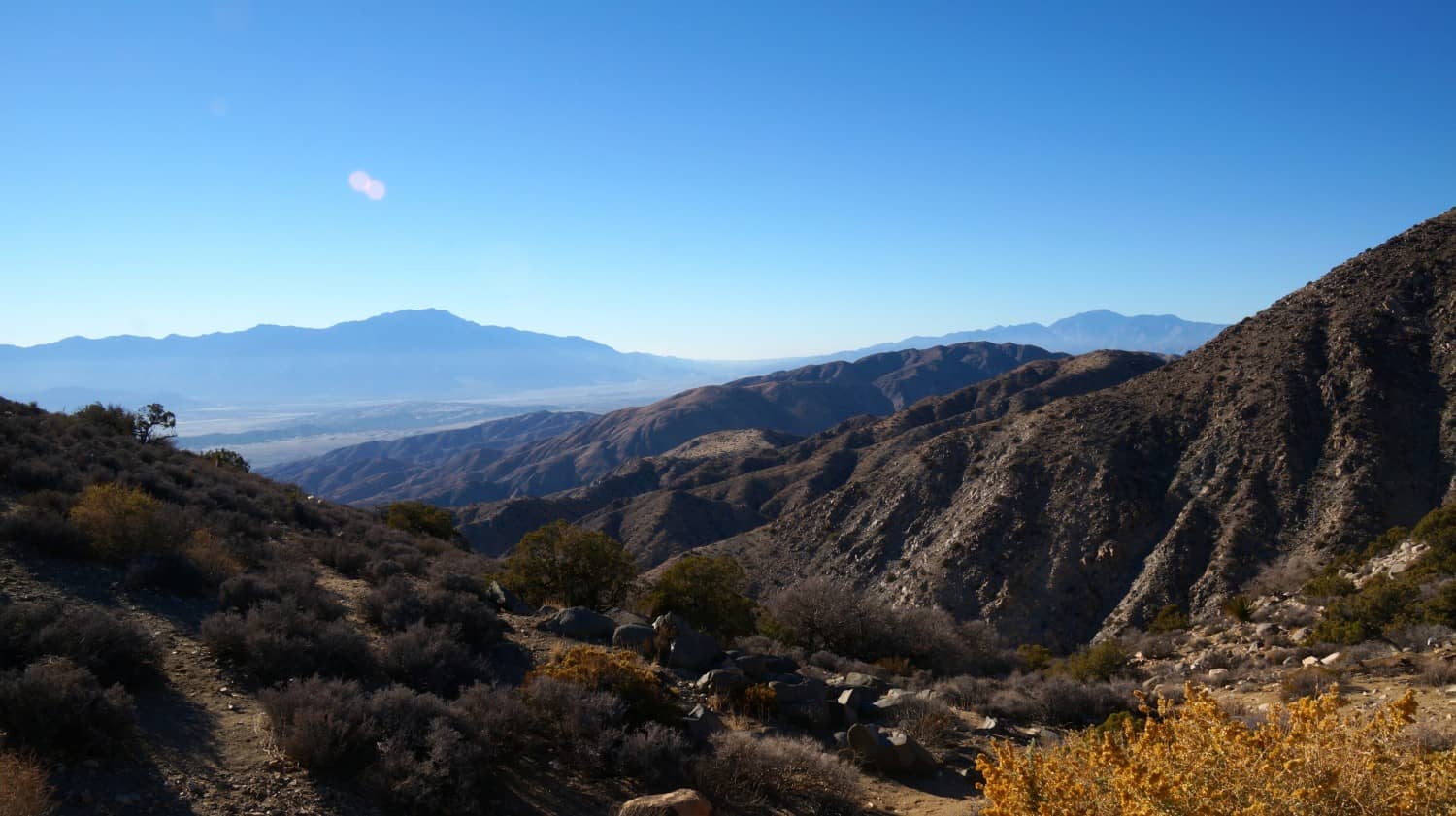 7. Do Some Shopping
From the upscale boutiques along Palm Canyon Drive to the vintage stores in the Uptown Design District, Palm Springs has something for every shopper's taste and budget. Whether you're in the market for handmade jewelry, clothing, art, or home décor, you'll find a lovely selection by local artisans and designers.
The open-air shopping is pet friendly, and the stunning backdrop of palm trees and mountains makes the experience even more perfect. Whether you're seeking high-end fashion or one-of-a-kind treasures, pet friendly Palm Springs won't let you down.
As you stroll along Palm Canyon Drive, take notice of the 400+ stars embedded in the sidewalk. The Palm Springs Walk of Stars is a beloved attraction, paying homage to an eclectic mix of luminaries — from Hollywood icons to sports legends and even local celebrities.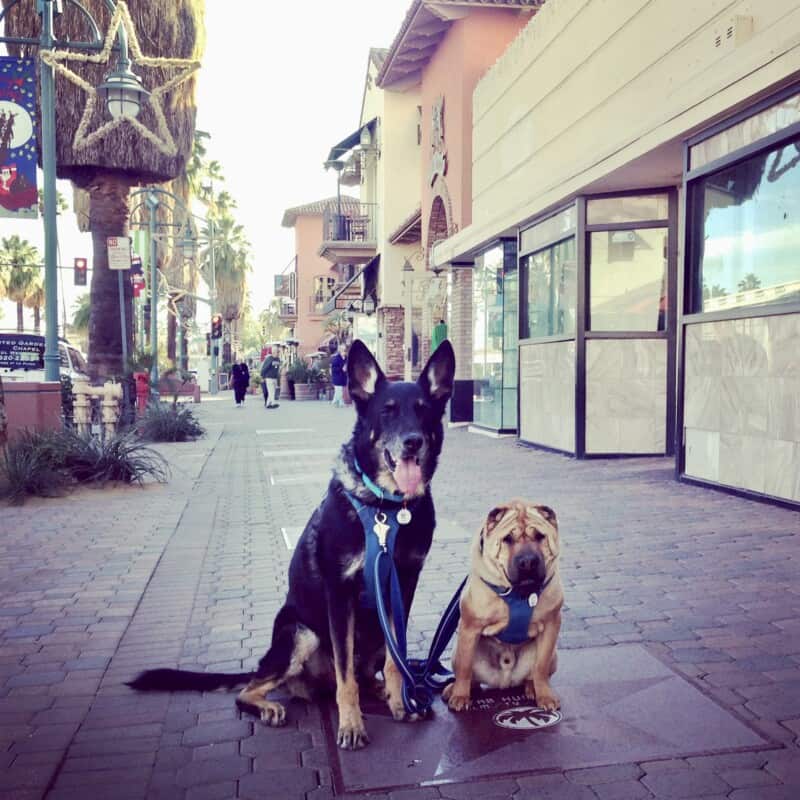 8. Get A Bite At Sherman's Deli
Sherman's Deli (401 E Tahquitz Canyon Way) is famous for it's generous portions, friendly service, and delicious food. The covered, dog friendly outdoor patio is spacious And the sign and dog bowls at the entrance make it clear that they welcome furry guests – as long as they keep their paws on the ground.
Don't miss this place if you're looking for a bite to eat when you're strolling around the downtown shopping area.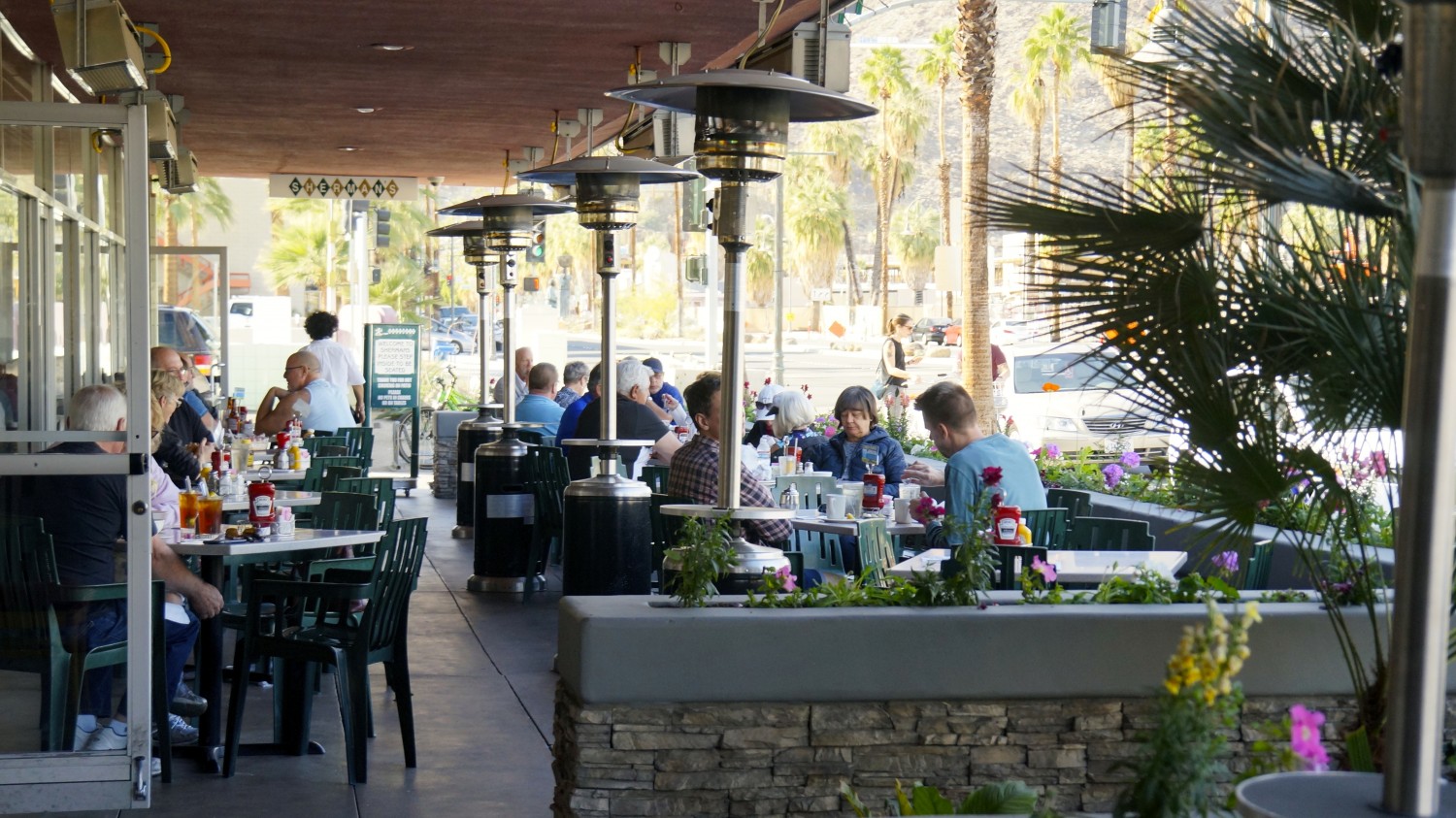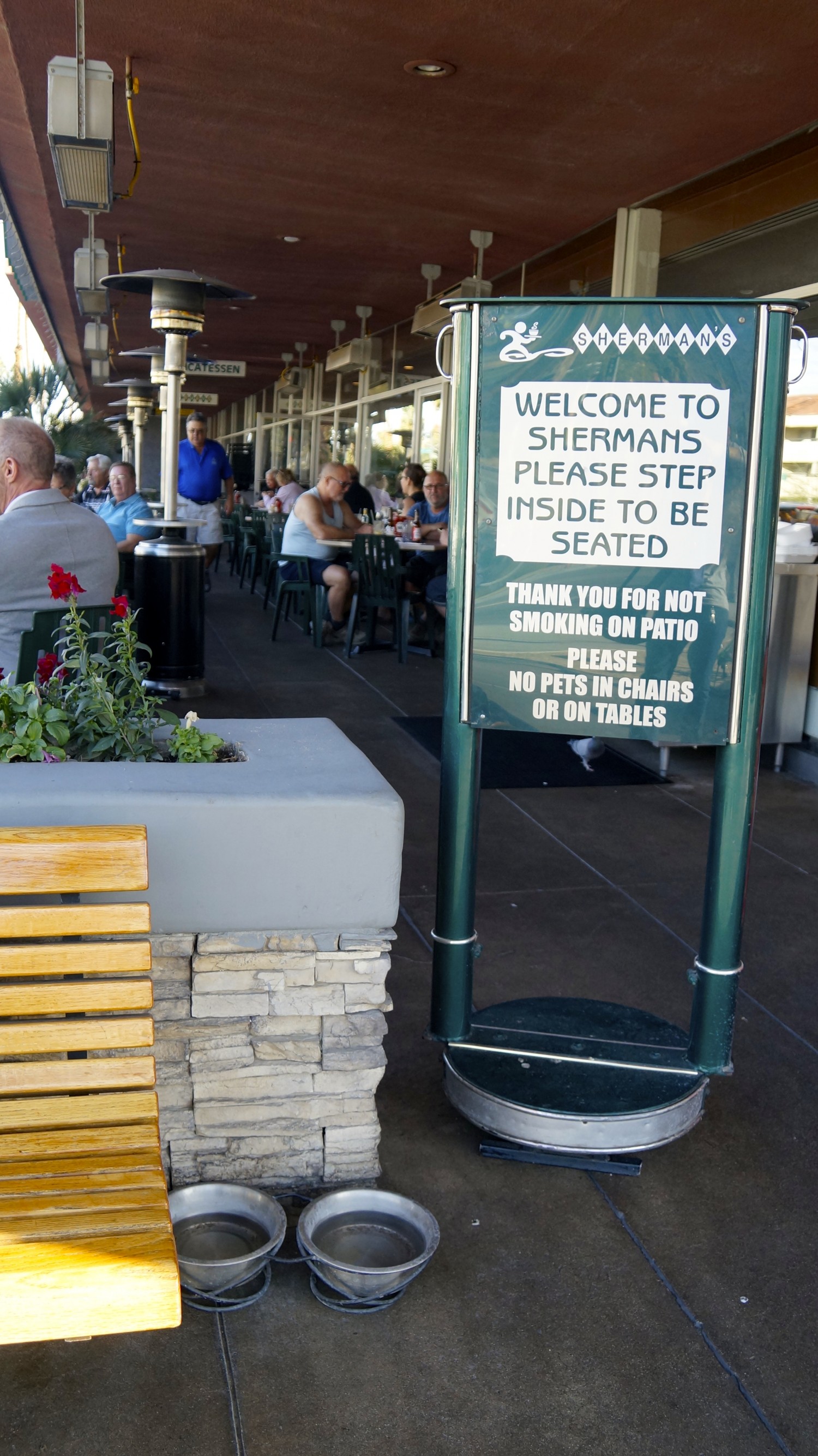 9. Hike The Bear Creek Nature Trail
The Bear Creek Nature Trail is a moderately difficult, paved pathway that stretches 4.8 miles along the base of the Southern Santa Rosa Mountains. Enjoy the pink bougainvillea blossoms and wispy mesquite trees as the trail meanders through a protected nature preserve.
Markers along the way highlight native plants and wildlife, while shade structures and drinking fountains provide comfortable pit stop for thirsty travelers and their pups.
There is plenty of street parking available at the trailhead near the intersection of Calle Tecate and Avenida Madero. The trail is open to the public from dawn to 10pm, with some of the best views occurring at sunrise and sunset.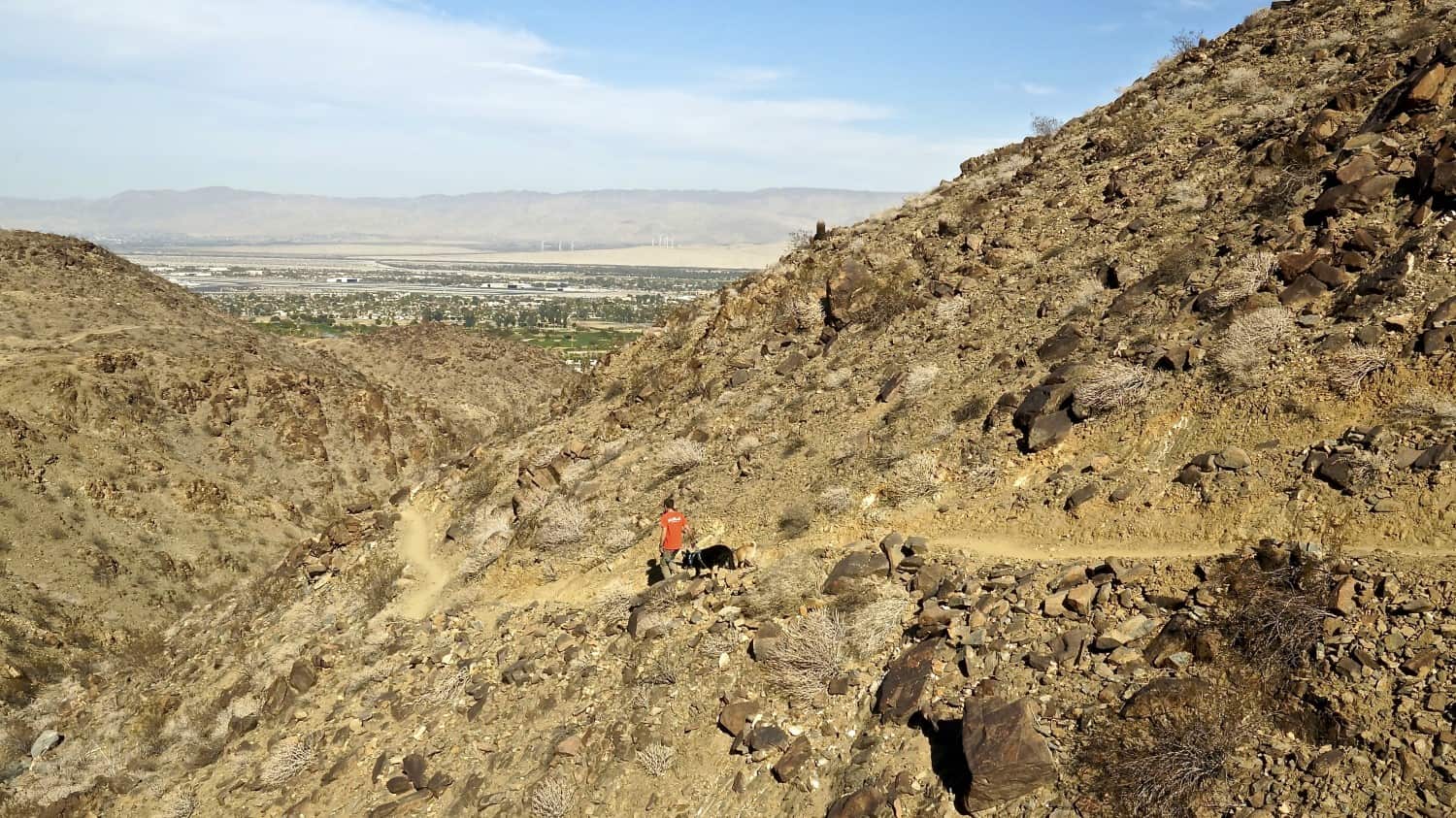 10. Spend A Day At Joshua Tree National Park
One of the most popular attractions in the Palm Springs area is Joshua Tree National Park — and for good reason! Spreading over nearly 800,000 acres, where the Mojave and Colorado Deserts meet, Joshua Tree's scenery is unlike any other we've ever seen. It's well worth the 1-hour drive to see this stunning landscape!
Pets are prohibited from all the trails in Joshua Tree. But that doesn't mean you can't get out for a walk together! Click to learn more about hiking with pets at Joshua Tree.
READ MORE ⇒ America's Best Dog Friendly National Parks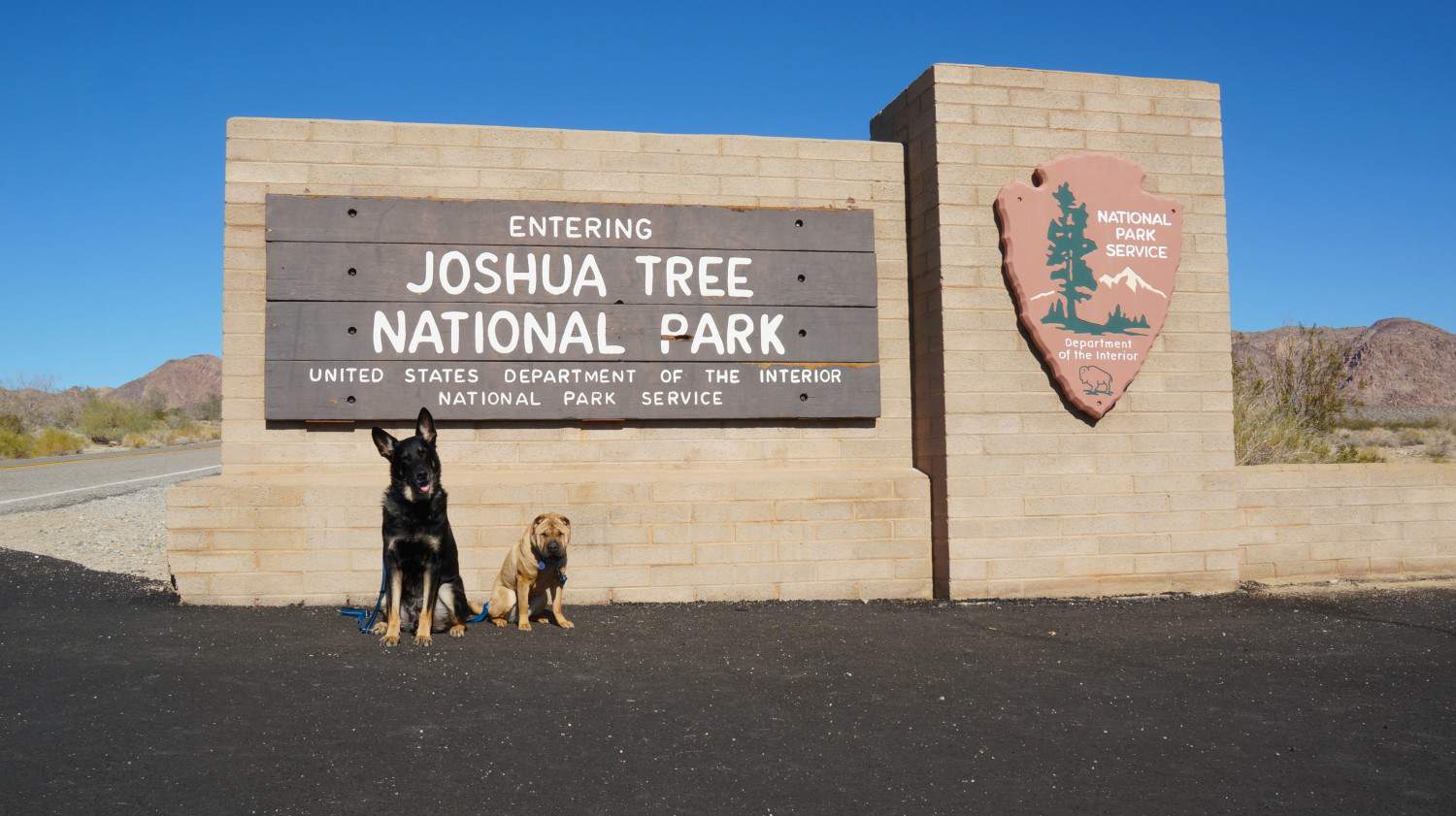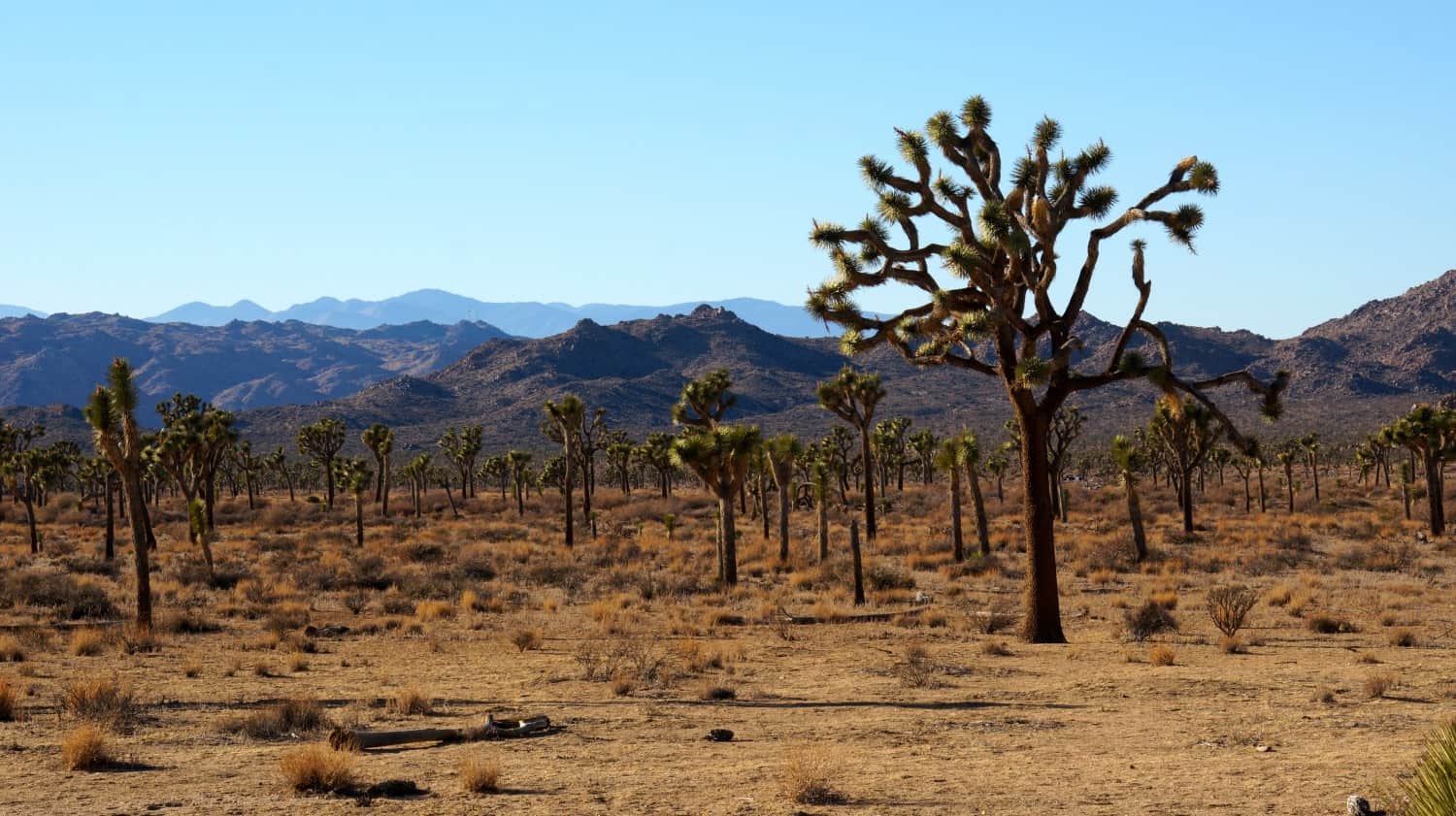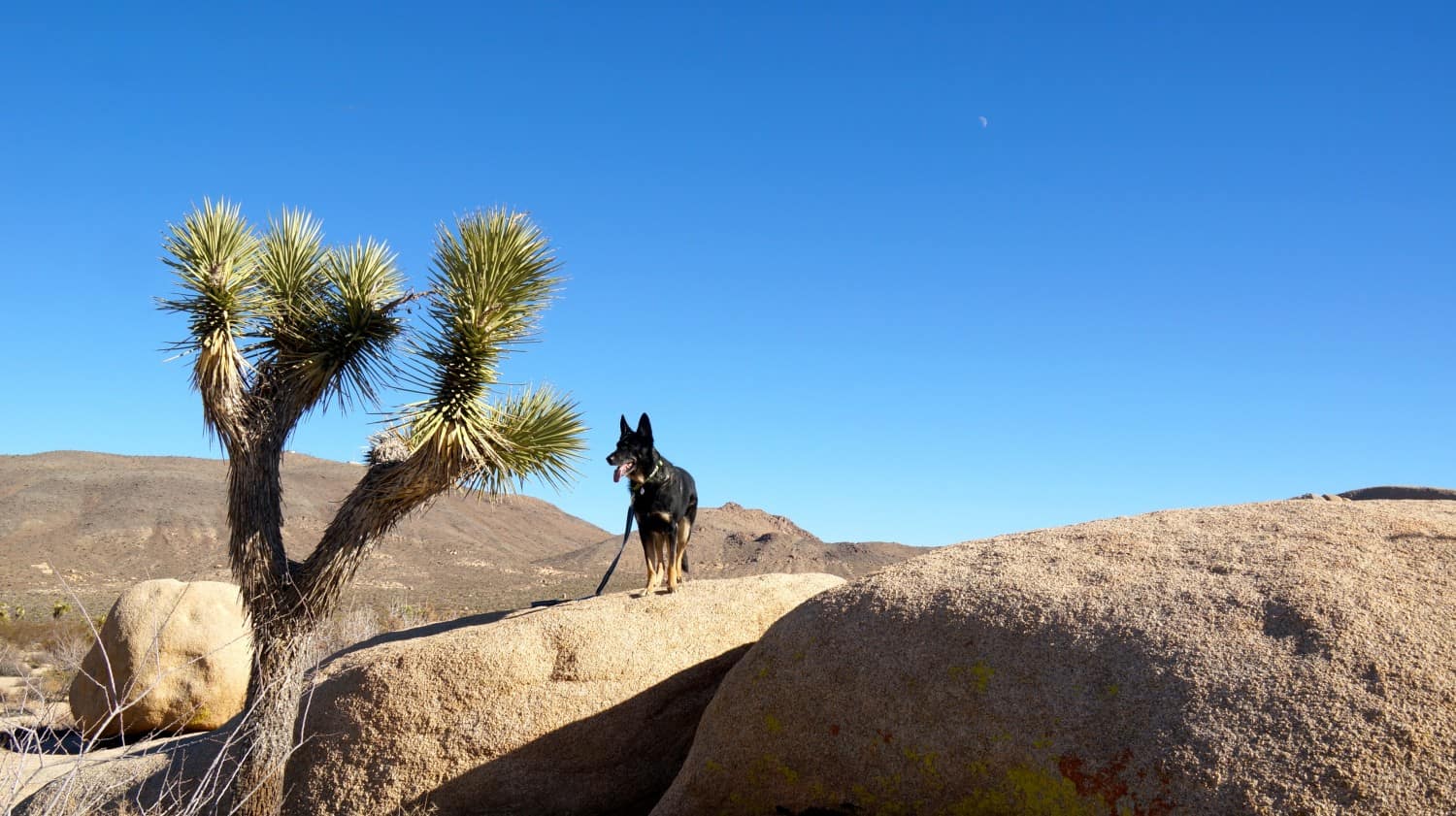 Top Hotels In Pet Friendly Palm Springs
Palm Springs offers many accommodation options, from luxury resorts to cozy vacation rentals to rustic campgrounds. Finding the perfect pet friendly place to stay during your visit should be a cinch. And to help, here are a few of our favorites:
GoPetFriendly may earn commission or revenue on some items through the links below.
ARRIVE Palm Springs
This striking 32-room boutique hotel is located in the Uptown Design District and welcomes up to three dogs with no pet fee. With bright, residential-style guest rooms outfitted with automatic shades to escape the desert sun, Apple TVs with live TV streaming apps, plush robes, and a curated mini bar of snacks and refreshments, you're sure to enjoy your stay. The hotel's centerpiece, a 42-foot long pool and hot tub, is adjacent to the poolside restaurant and bar, where guests cna enjoy an all-day menu of food and refreshing drinks.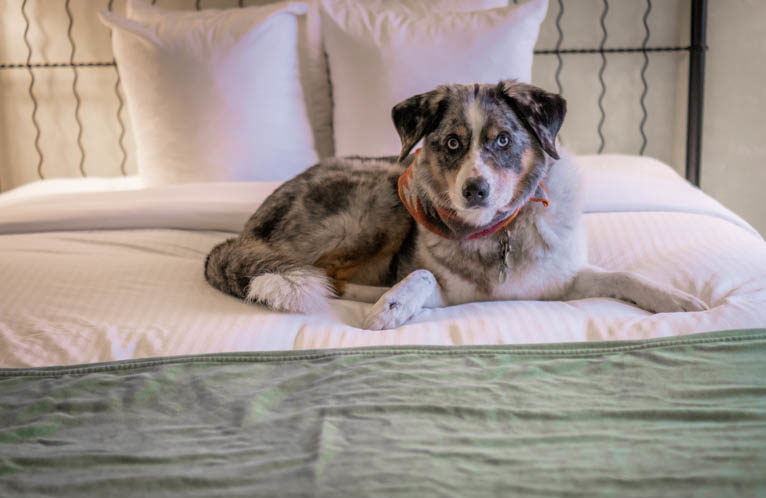 Kimpton Rowan Palm Springs
Like all Kimpton Hotels, the Rowan Palm Springs welcomes all pets of all sizes and breeds with no pet fees! And their 153 soothing, spacious rooms and suites offer a welcome retreat after a day of pet friendly adventures.
Enjoy brilliant sunsets and cocktails at the rooftop pool and bar. Or dine at one of two restaurants featuring seasonal, shareable small plates made from fresh, local ingredients.
PS Swanky Vacation Rental
This four-bedroom pet friendly vacation rental has a pool, spa, mountain views, and fire pit. Tucked behind the designer shops of Uptown Palm Springs on a secluded cul-de-sac of beautiful homes, it was designed by noted architect Charles DuBois and built by the Alexander Construction Company in 1959. Now gorgeously renovated, staying at PS Swanky will make your getaway feel glamorous!
An additional pet fee of $95 plus tax per pet per stay is applied to the rental rate. And pets must be picked up after during your stay.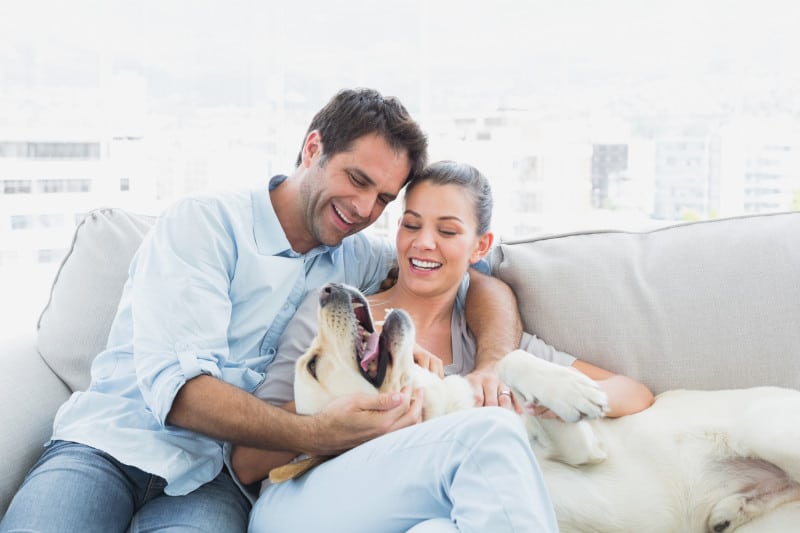 Pet Friendly Day Trips From Palm Springs
So now you know about our ten favorite things to do in pet friendly Palm Springs and our favorite places to stay with our dogs! If you have more time and want to explore a bit further afield, read on for a couple of pet friendly day trips in the area.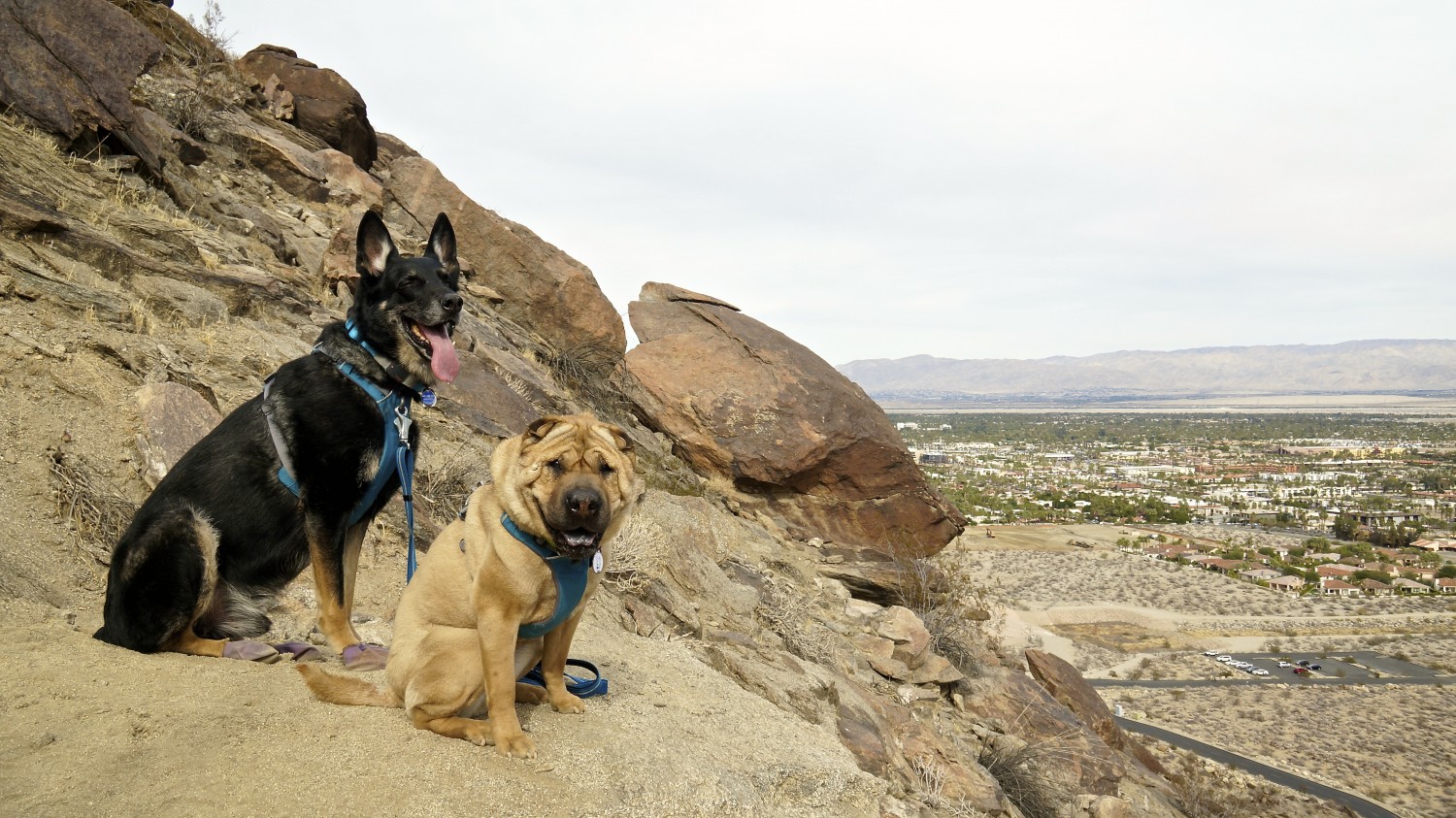 Idyllwild
While you're in Palm Springs, it would be a shame to miss the quaint mountain resort of Idyllwild. The views alone are worth the drive! And the rustic, small-town atmosphere will steal your heart.
We stopped for lunch on the pet friendly patio at Idyllwild Brewpub. And would have enjoyed sampling their craft beer lineup … if we hadn't had that curvy road between us and home.
Leanna's Idyll Awhile Bistro also serves a nice lunch and sometimes has live music on the outdoor patio.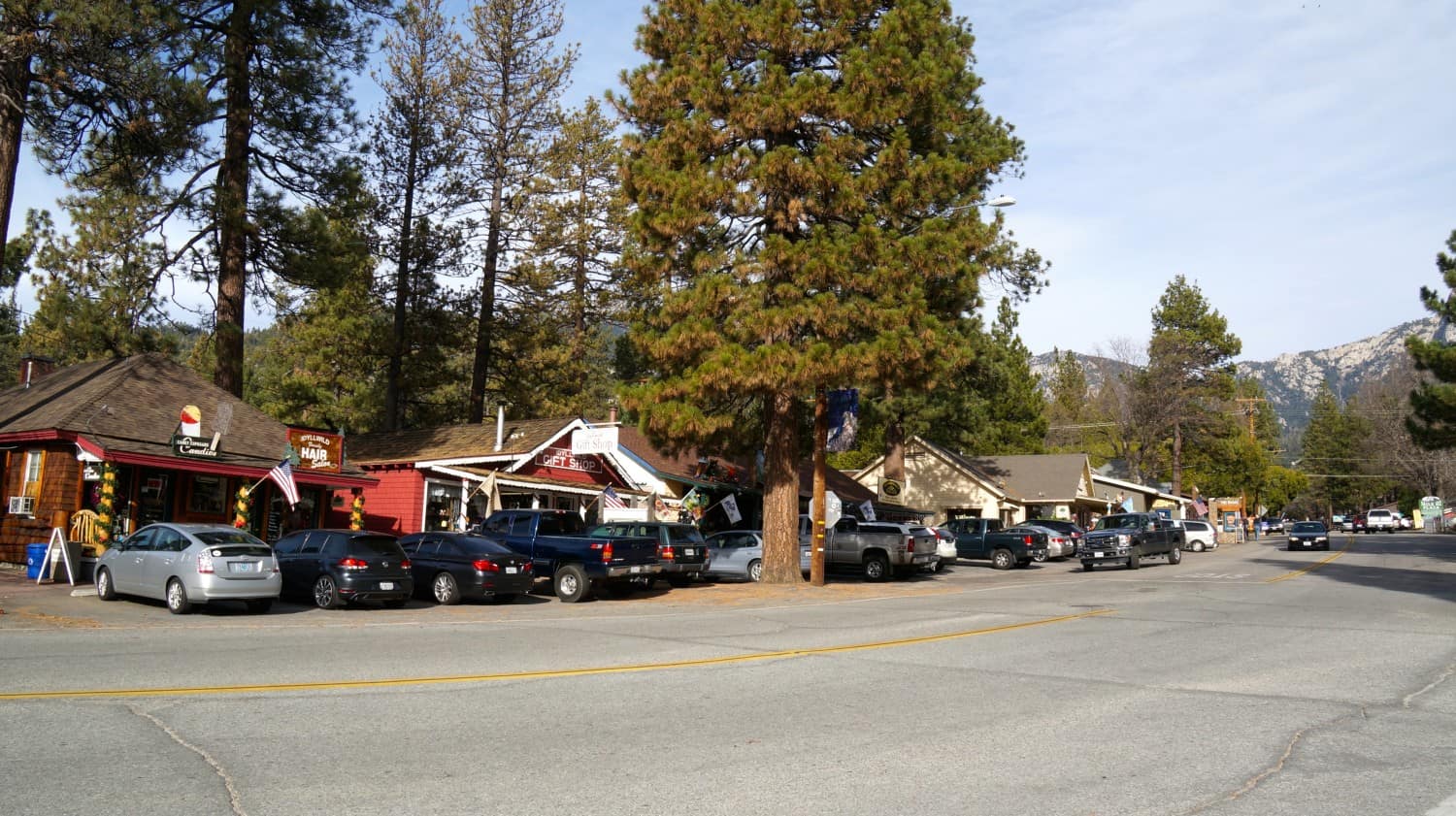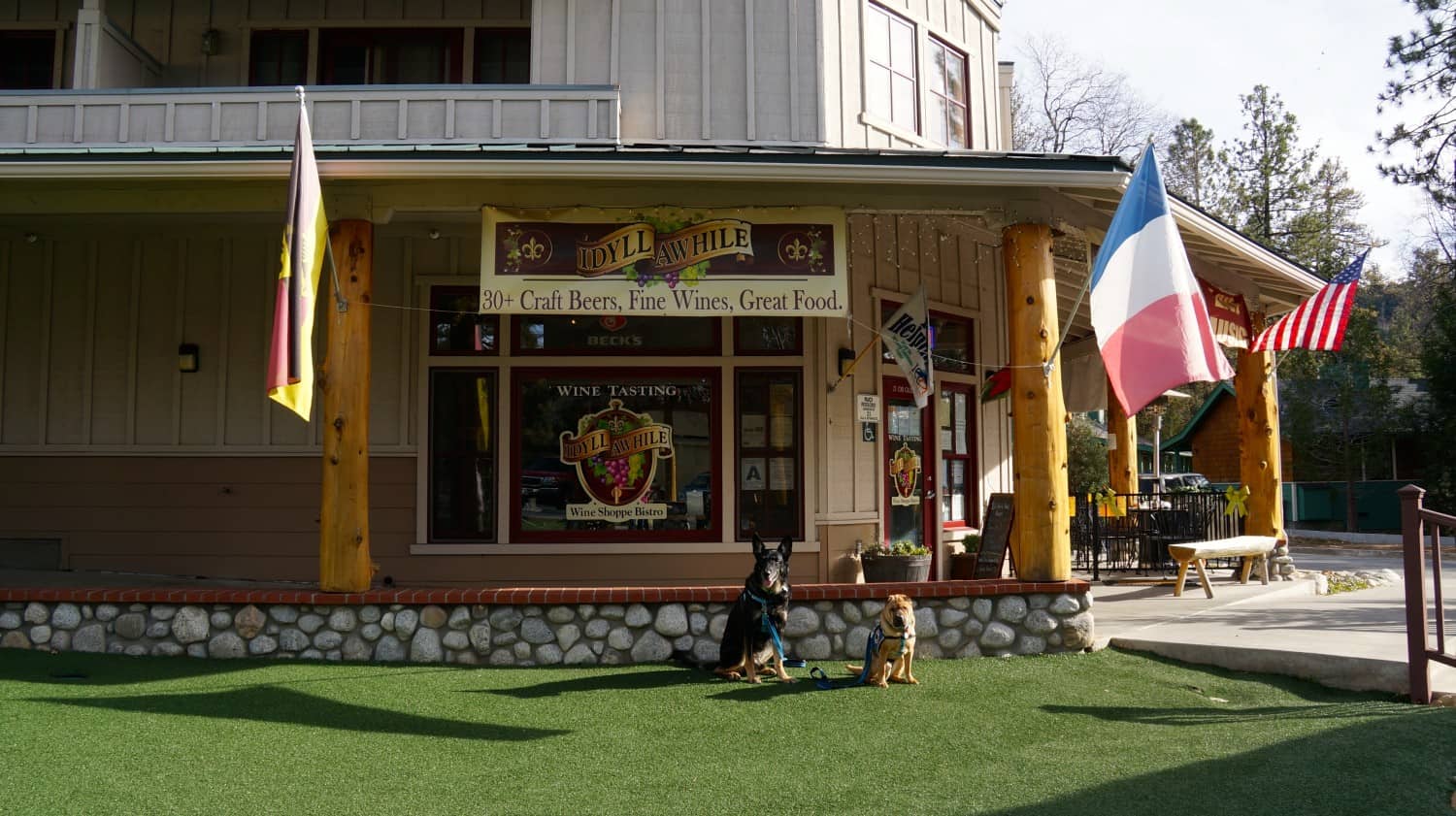 Borrego Springs
Just 86 miles south of Palm Springs, Borrego Springs feels like the end of the world. And with a population of less than 3,500, it's small-town atmosphere is a delightful contrast to the busy Coachella Valley.
You'll find a handful of restaurants, ice cream shops, galleries and hotels downtown. But the local art scene is what draws most people to Borrego. And the town's most notable displays are the super-sized prehistoric and fantastical beasts stalking the local roads. They make for some great photo ops!
READ MORE ⇒ Borrego Springs: A Dog Friendly Day Trip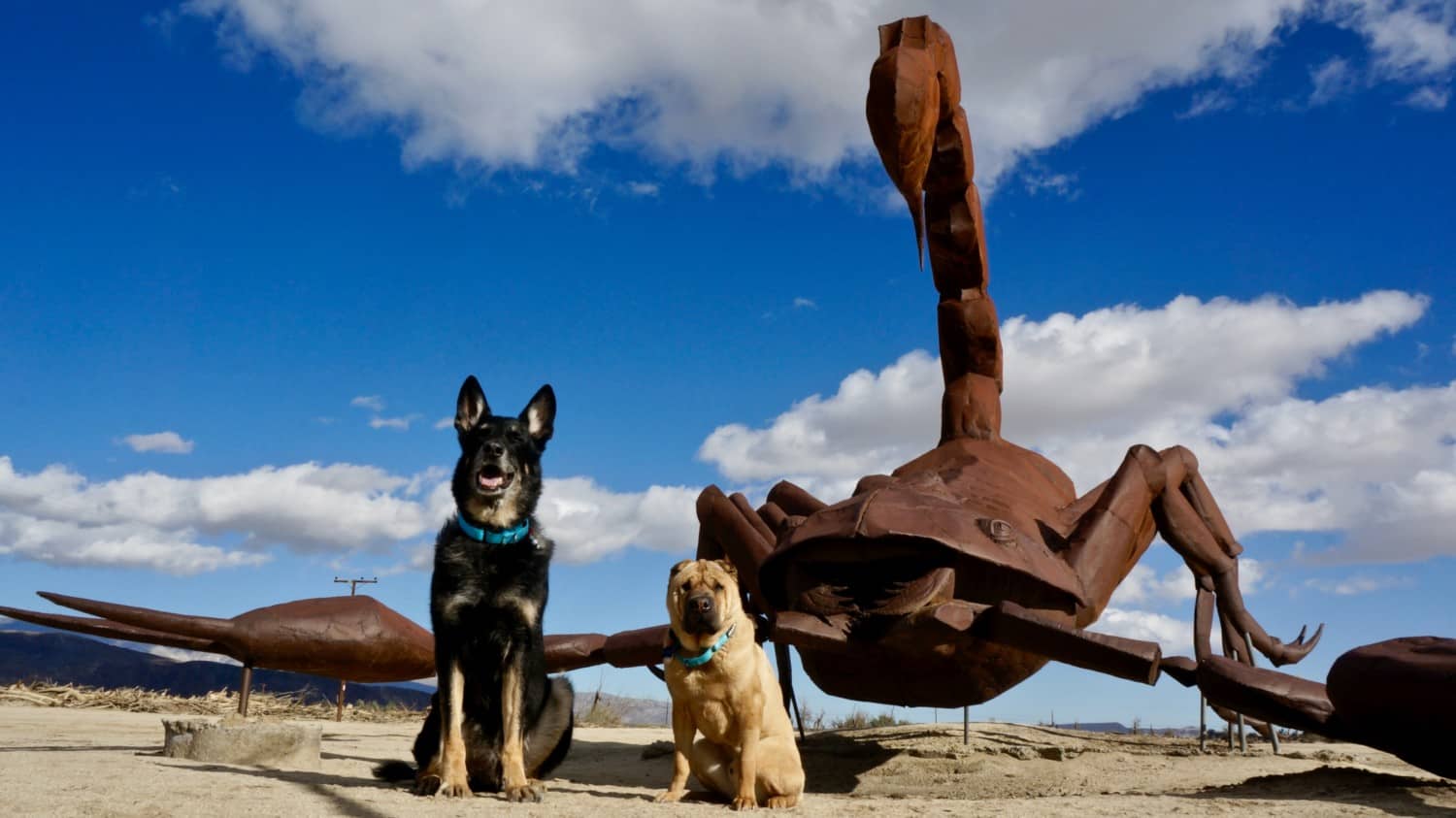 We hope we've inspired you to visit pet friendly Palm Springs. Be sure to tell us about your favorite things to do in the comments section!
Visit our Amazon store to learn about more products we rely on to make traveling with pets easier, safer, and more fun!
The post Top 10 Dog Friendly Things To Do in Palm Springs appeared first on GoPetFriendly.com.



Credit : Source Post