With fantastic lodging, restaurants, shopping, and things to do together, pet friendly Stowe, Vermont makes a terrific vacation destination! Read on for all the information you'll need to start planning your trip.
Touring Vermont is like driving through a Norman Rockwell painting. The lush mountains, the pure air, and the sweet villages with their covered bridges are even better than you imagine. And Stowe is definitely one of the highlights.
Though Stowe is small with a population of around 5,000 full-time residents, there are plenty of pet friendly activities to keep you busy. And there is no shortage of unique places to stay and wonderful eateries to enjoy during your visit.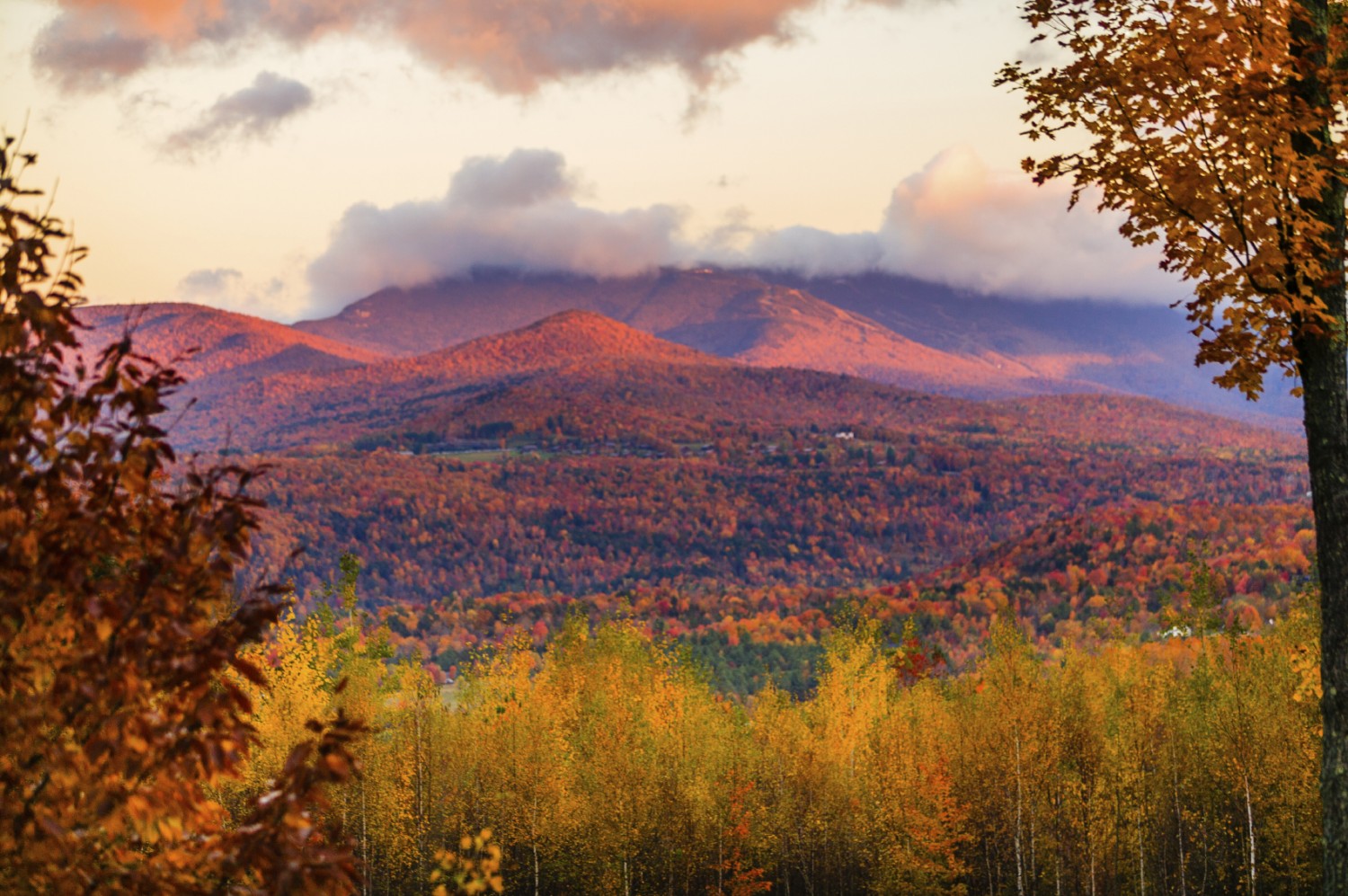 Best Time To Visit Stowe With Pets
There truly is no "bad" time of year to visit pet friendly Stowe! When you visit will likely depend on the things you'd like to do during your trip.
Spring is ideal if you want to sample the state's famous maple syrup. Usually sometime in March the locals begin collecting and boiling the sap from the maple trees into syrup. Several maple sugaring tours are available during the season, including one at Trapp Family Lodge.
Stowe's idyllic summer weather make it a popular destination from June through August. With with mostly clear skies and highs in the 60s and 70s, it's hard to beat! For a quieter visit during this time, plan to arrive in June. Most New Englanders don't flock to the region until the Fourth of July weekend.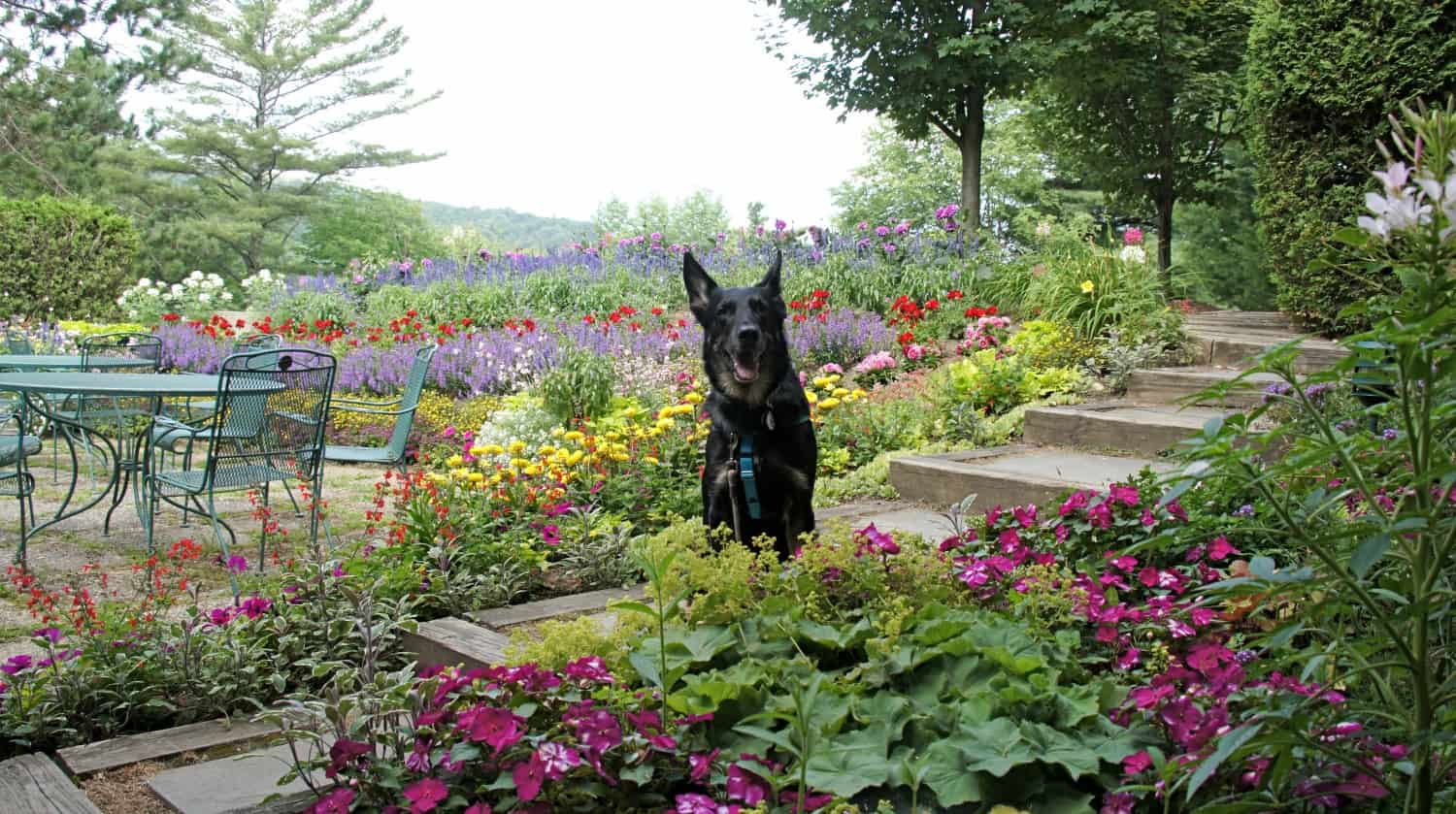 Of course, there's nowhere like New England in the fall! If apple orchards and colorful foliage are what you're after, plan your trip between mid-September and mid-October. Keep in mind that you'll likely have some rain, so pack an umbrella. And book your pet friendly accommodations well in advance!
And that brings us to winter, which is the perfect time to visit pet friendly Stowe if you want to hit the slopes or play in the snow. The best skiing conditions are generally in February or even March. Pack appropriately for winter visits — high temperatures between December and March average in the teens and 20s.
READ MORE ⇒ Which Dog Boots Are Best For Your Dog?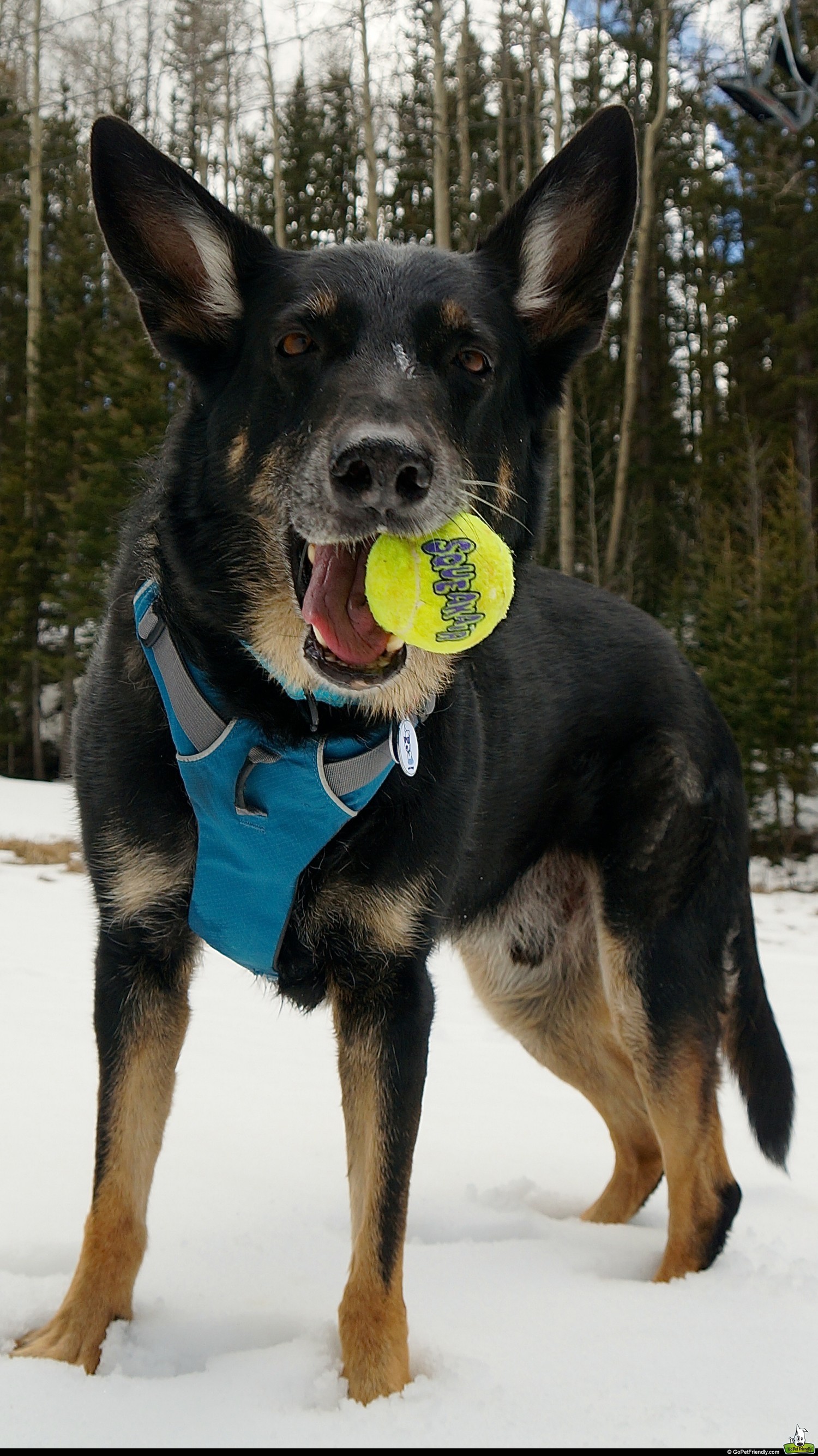 Pet Friendly Things To Do In Stowe
Stowe's pet friendly activities are nearly endless. So, we're highlighting some of our favorites. But you can find even more options under "Activities" on GoPetFriendly.com!
Stowe Recreational Path
Leashed pets are welcome on this 5.2-mile, paved bike and walking path. Beginning behind the Stowe Community Church on Main Street in historic Stowe Village, the path winds along the river to a classic covered bridge.
Sculptures have been placed along the way and many dog friendly shops and restaurants are accessible from the path. You'll also find picnic and swimming areas dotting the trail — perfect for enjoying the scenic mountain views.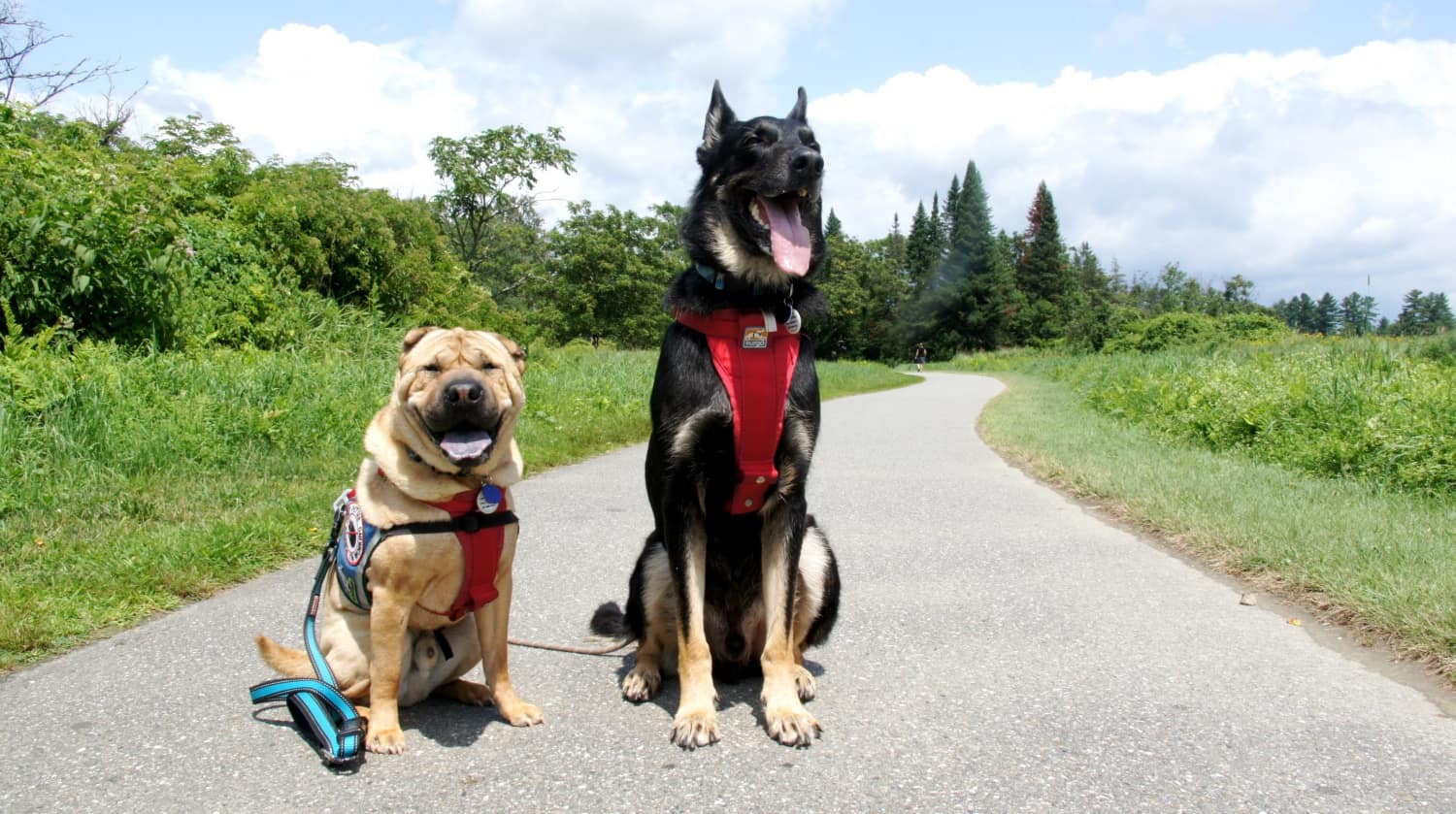 The Quiet Path
The Rec path connects to Stowe's Quiet Path, a mowed greenway for walkers and joggers only. Meandering along the West Branch of Little River for a relaxing 1.8 miles, dogs under voice command can romp off-leash here.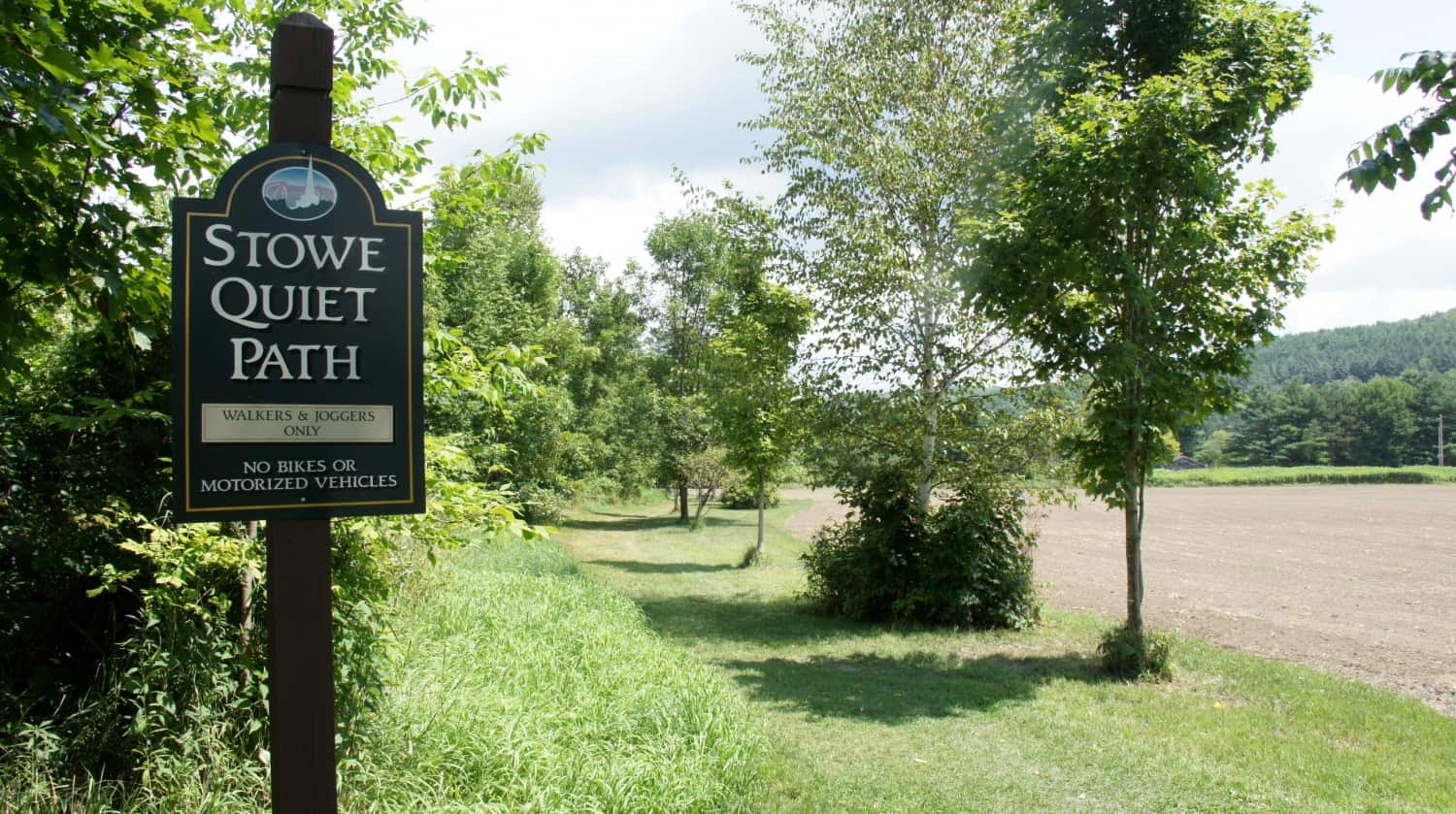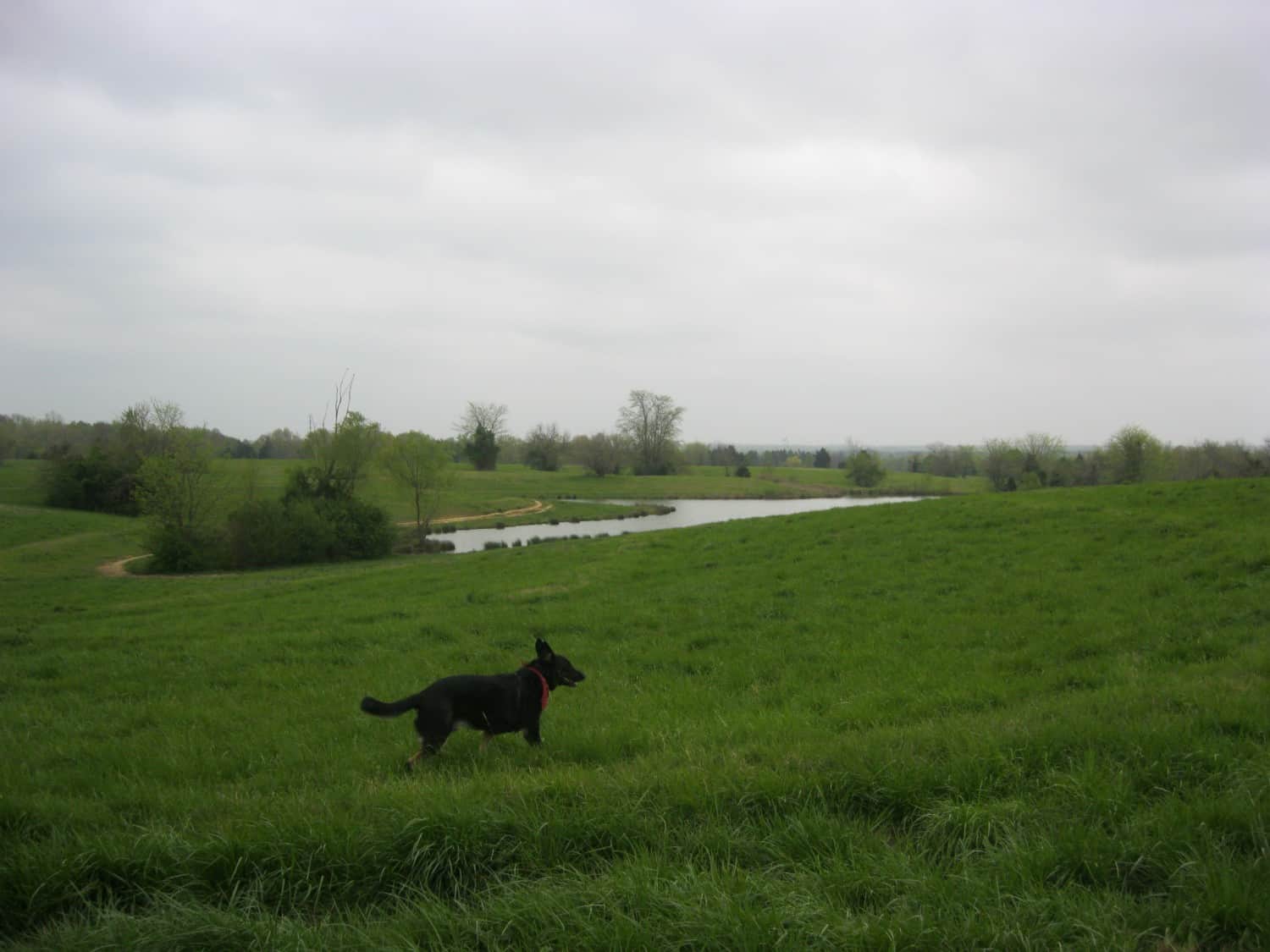 Stowe Gondola SkyRide
When you're ready to see Mt. Mansfield – Vermont's highest mountain – up close, head to Stowe Mountain Resort and jump on the pet friendly gondola ride. The panoramic views of the surrounding Green Mountains are stunning. And you can choose to take the gondola back down, or walk the trails to the bottom!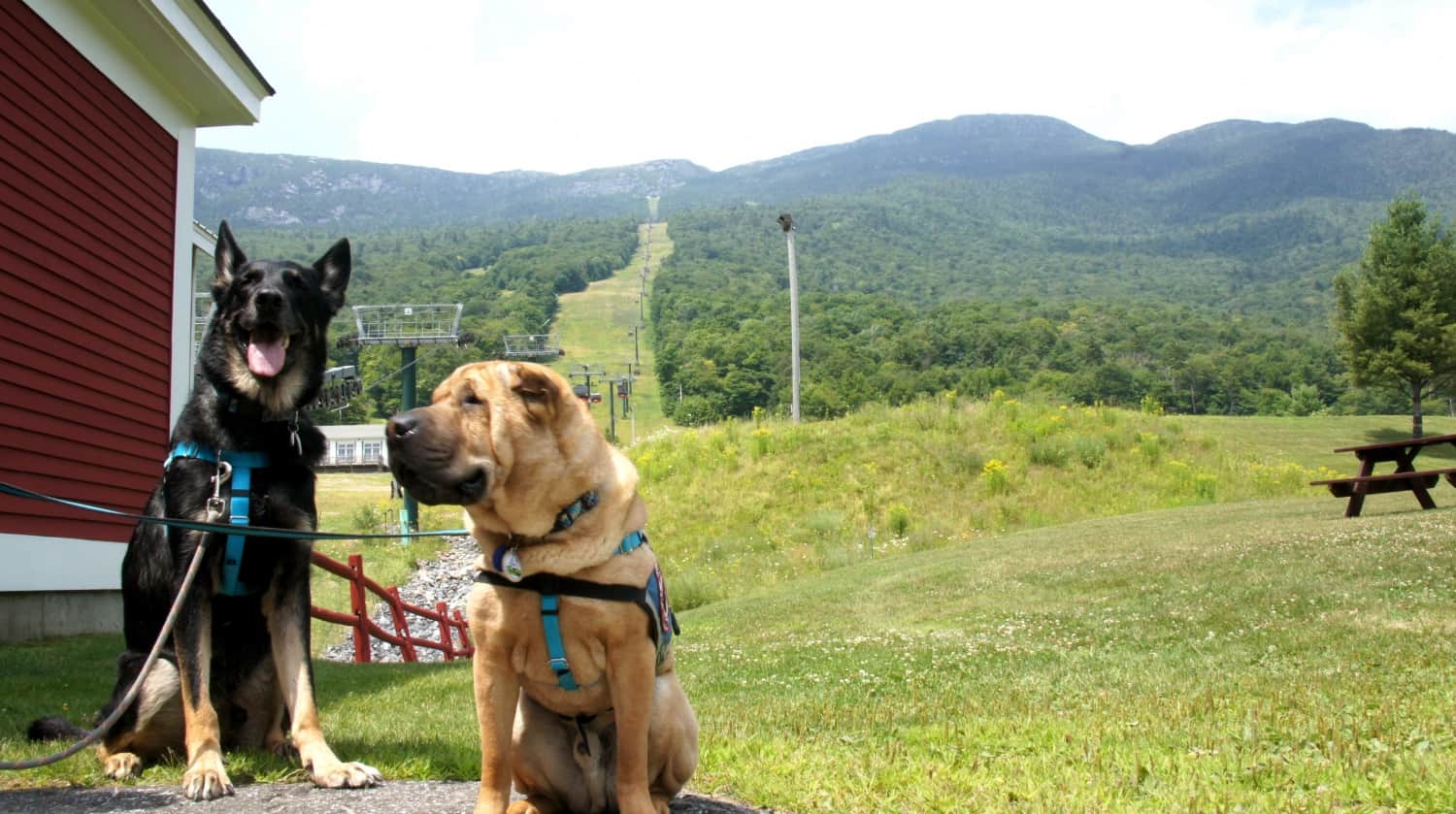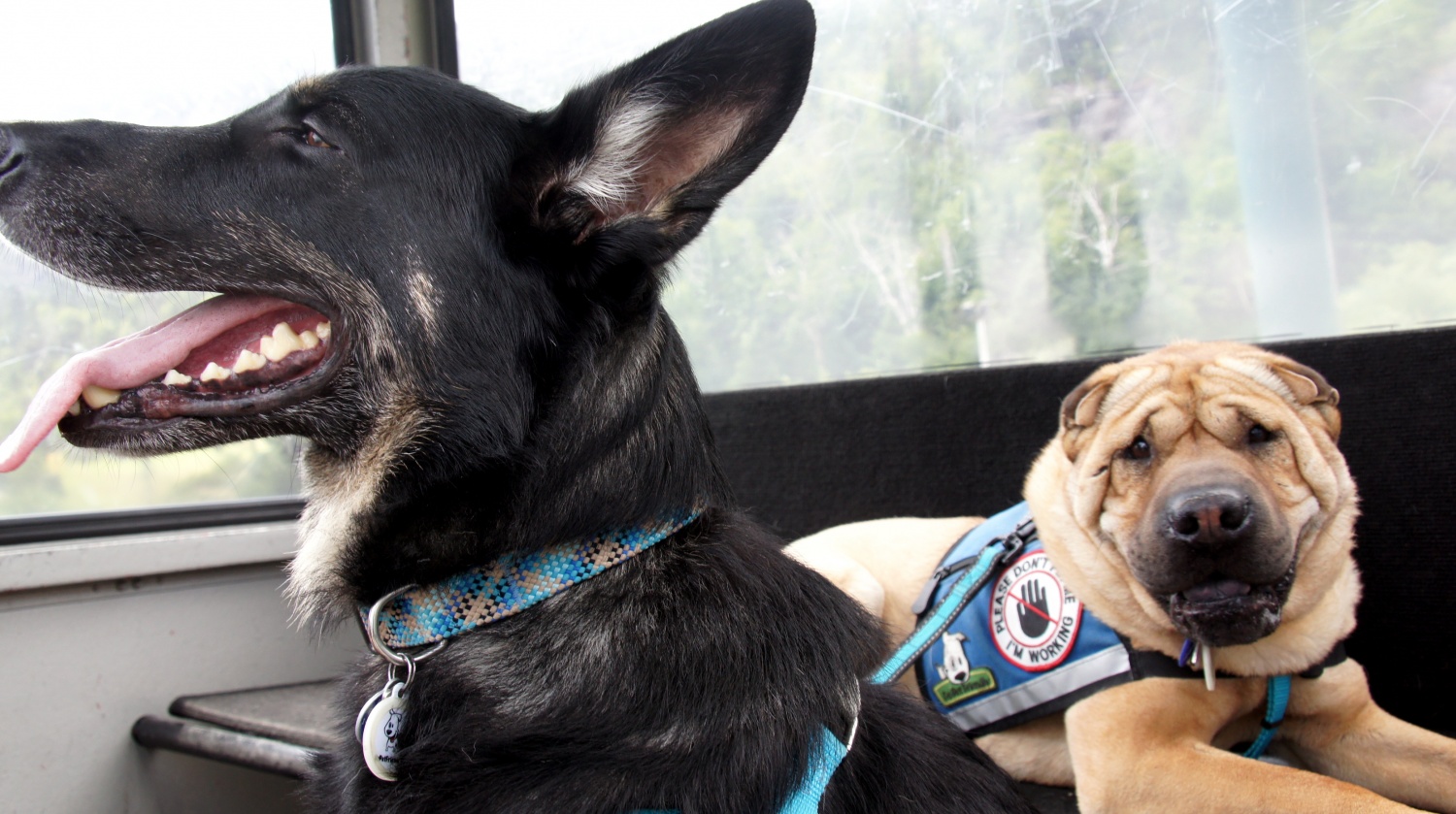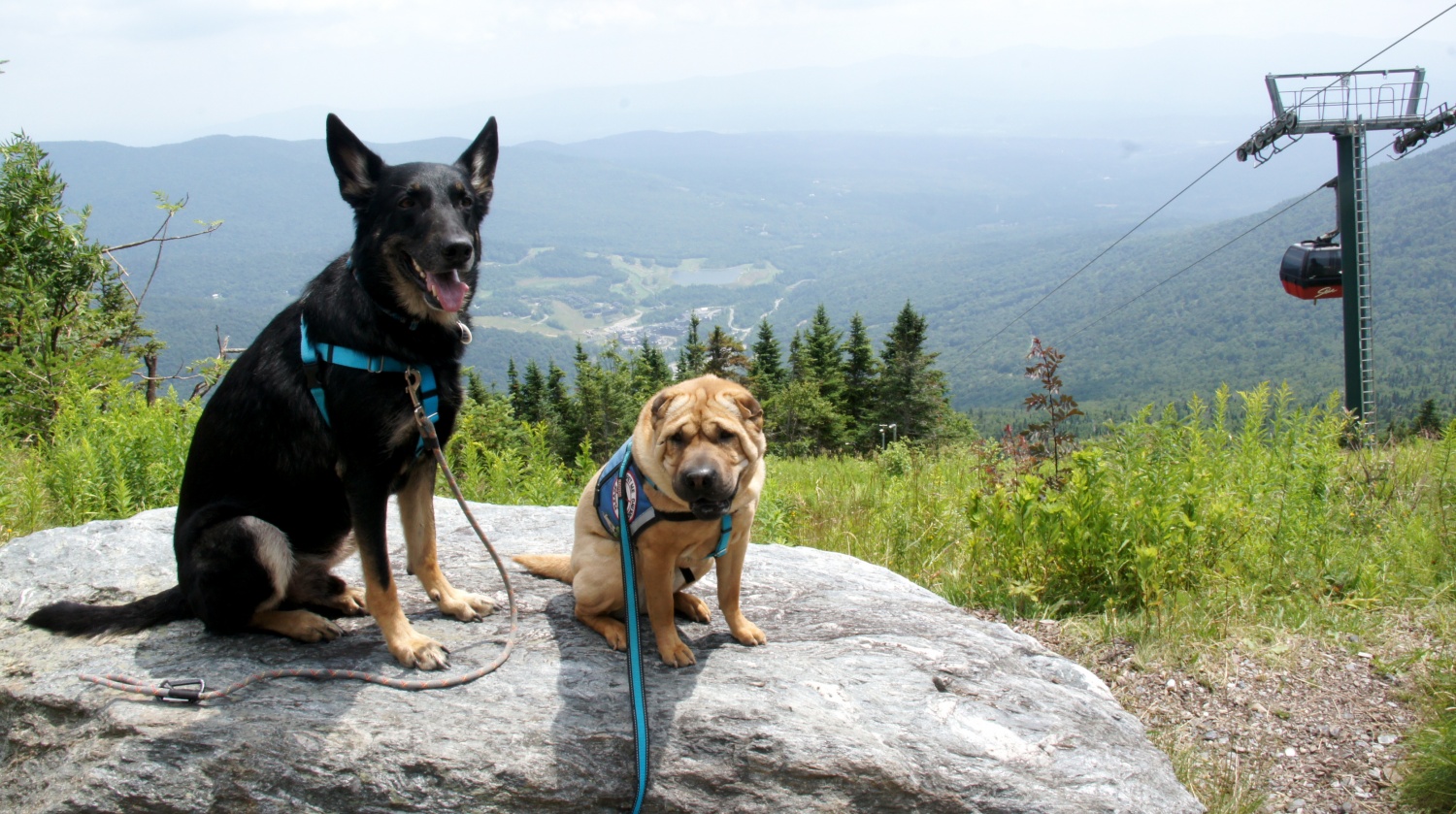 Stowe's Auto Toll Road
If gondola rides aren't your thing, you can still enjoy the views from the top of Mt. Mansfield by taking the historic Toll Road. The 4.5-mile drive climbs to a summit of 3,850 feet and offers views of Lake Champlain and the Adirondack Mountains.
There is nowhere to get food on the Toll Road. So pack a picnic and plan to take a hike, have lunch, and throughly enjoy the scenery.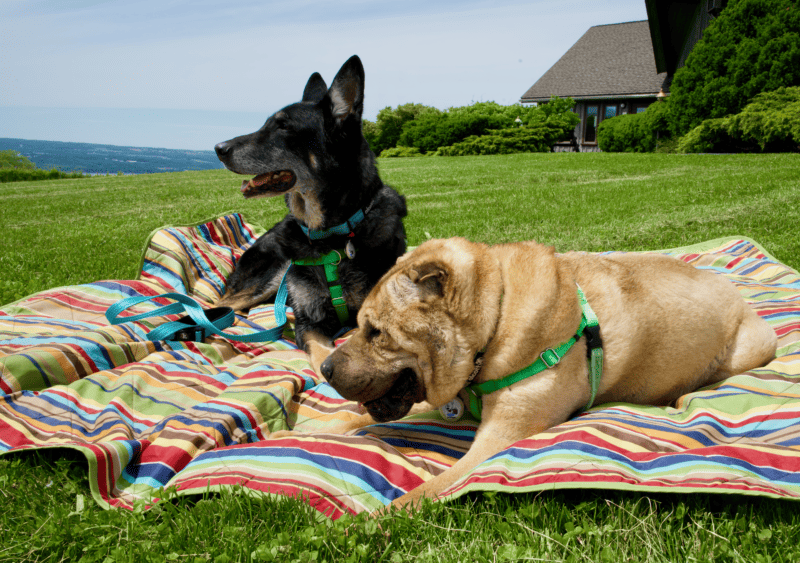 Hike To Moss Glen Falls
It's a short hike to Vermont's tallest waterfall, cascading 85 feet! The trailhead is at 369-615 Moss Glen Falls Road, which is just a 5-minute drive from Stowe's historic Village. And the falls is only about a quarter-mile from the trail head.
Though signage is limited, the trail is quite obvious. Following the brook upstream, the trail come to a fork. You can go left up a steep, rooty climb to the perfect location for taking photos. Or go to the right and follow the outer edge of the river to the base of the falls.
The trail continues on an old woods road. At about the 1.5-mile mark (just after a wooden bridge), the road turns left and begins a steep ascent to a viewless summit. If you want to get your heart pumping – this is for you!
READ MORE ⇒ Tips For Hiking With Dogs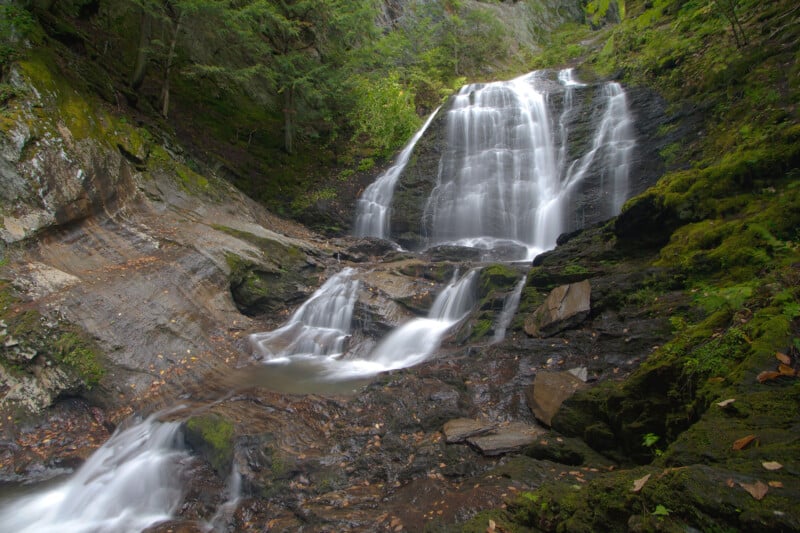 Smugglers' Notch State Park
Smugglers' Notch — a narrow pass lined with 1,000-foot cliffs through the Green Mountains — is one of the best scenic drives in North America. In addition to the drive, you'll find some fantastic (and challenging!) pet friendly hiking trails here.
For another opportunity to view a waterfall, try the Bingham Falls Trail. Or park at the Smugglers' Notch Information Booth and climb the Sterling Pond Trail to a scenic pond stocked with
trout. After the steep hike, there's an additional easy
loop around the pond as a reward!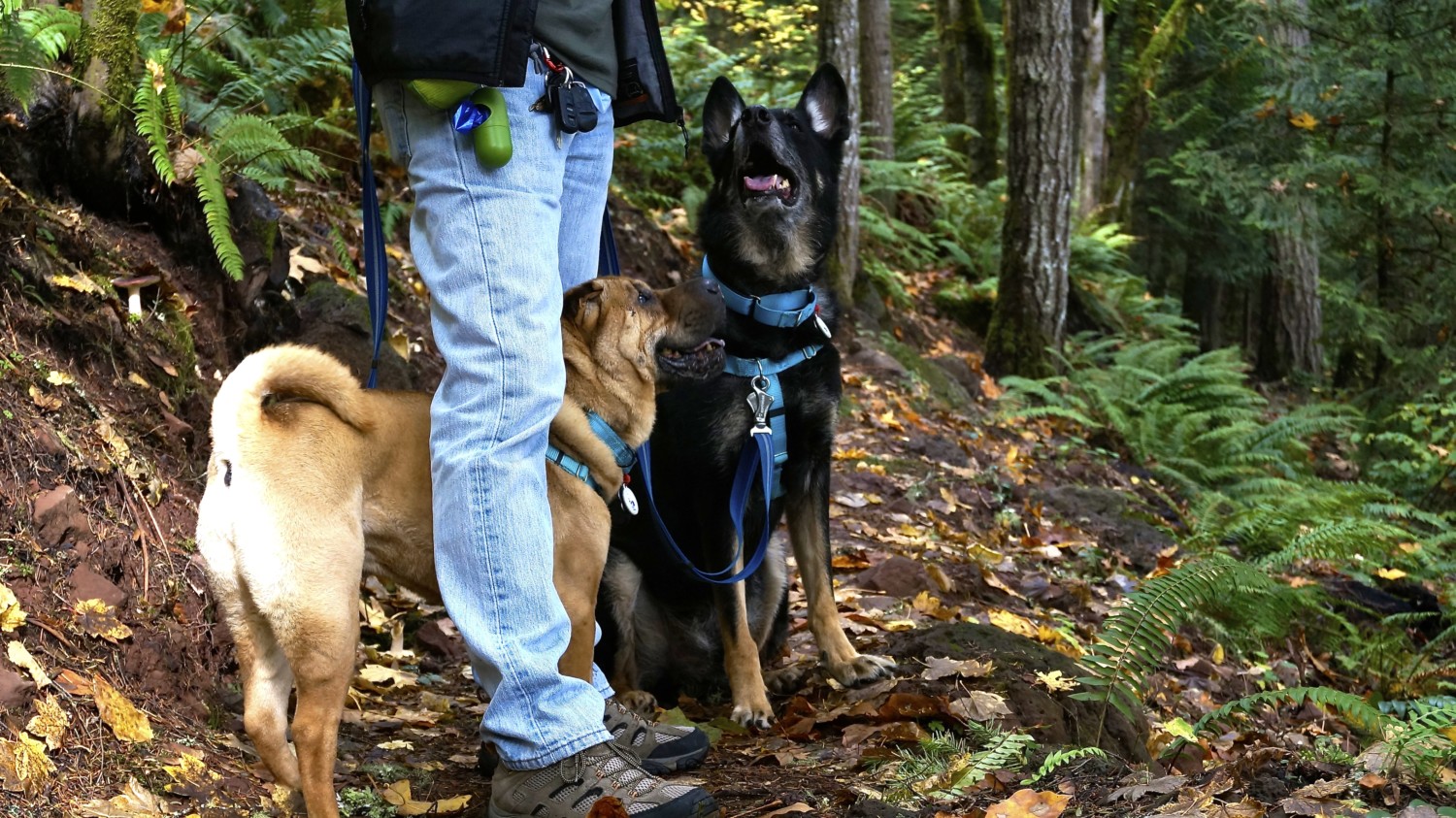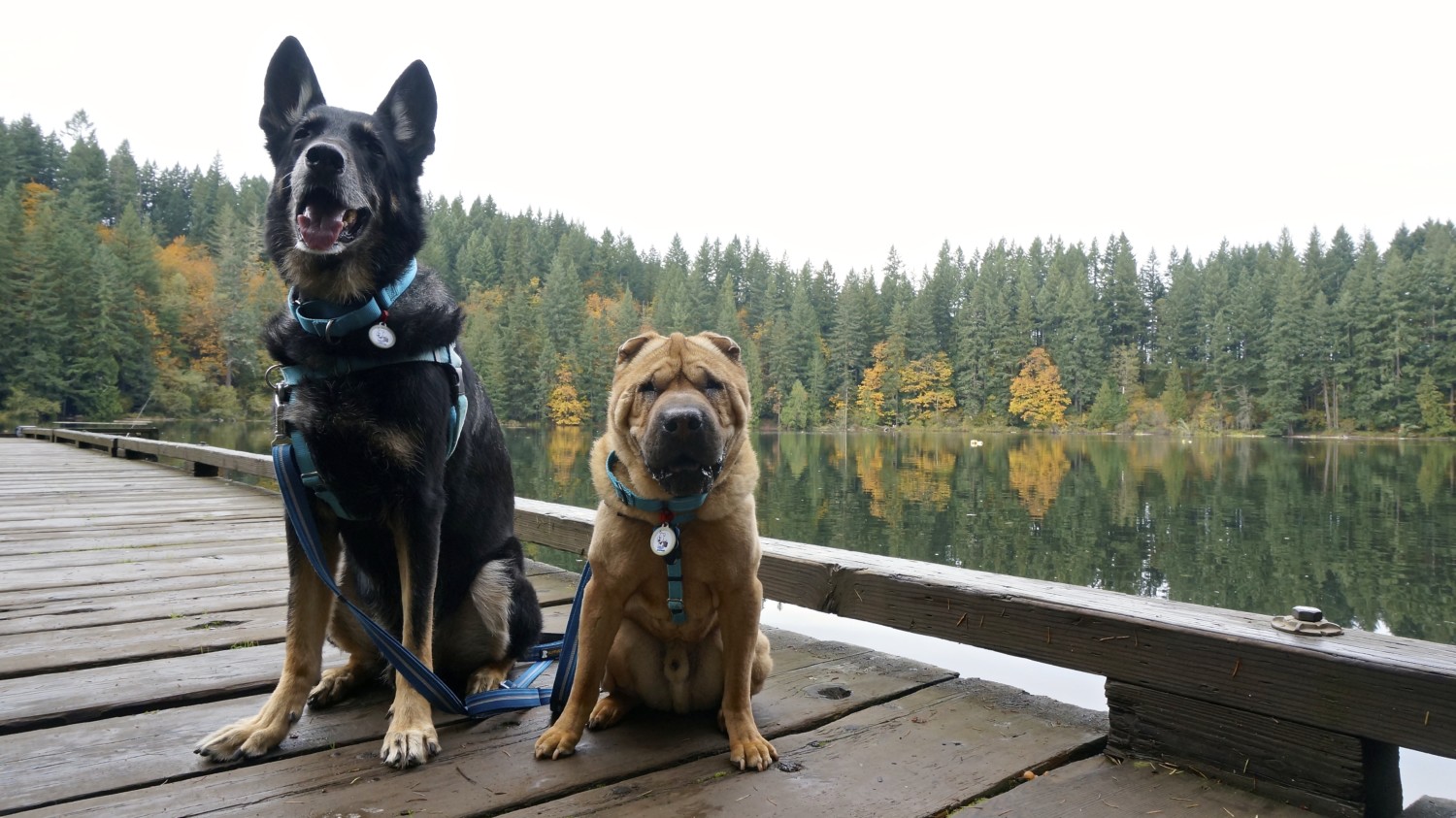 Visit Ben and Jerry's
Ben and Jerry's first factory was built in 1985 in Waterbury, Vermont — just a 15-minute drive from Stowe. The facility continues to manufacture around 350,000 pints per day, and gives fans a sneak peek at the company's humble beginnings. Note that Factory Experience is human-only and tickets are released two weeks in advance of any chosen date. Pre-purchasing your tickets online is highly encouraged due to limited capacity.
While some people in your group are on the factory tour, you and your pets can enjoy the Flavor Graveyard together. Here the "Dearly De-pinted" flavors are commemorated in a shady memorial garden.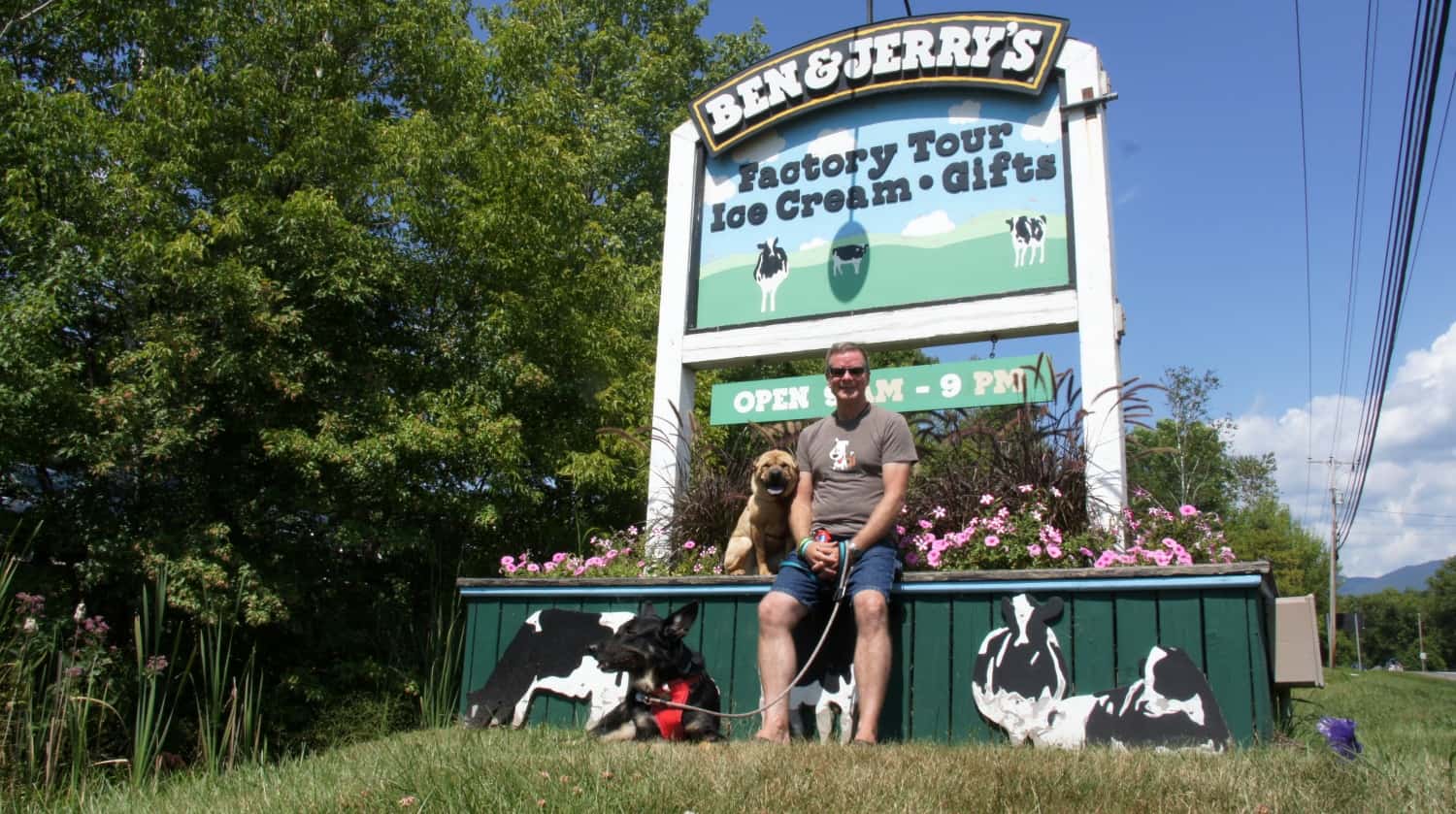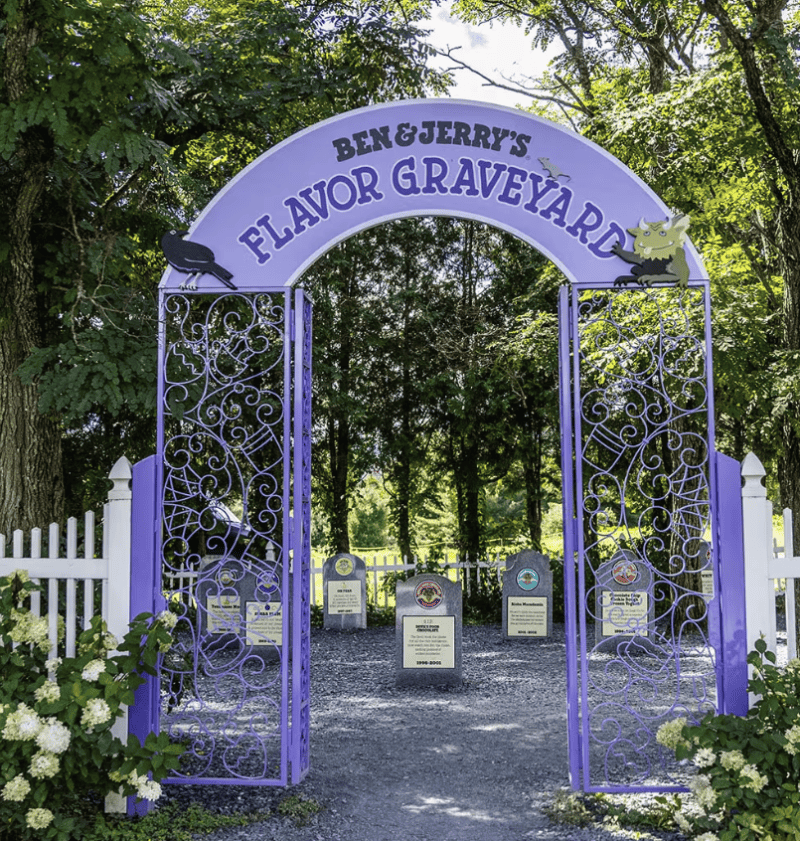 Of course the main attraction at Ben and Jerry's is the Scoop shop. Be sure to get a treat for yourself and your pup. The Doggie Desserts are extremely pupular! And the grounds offer plenty of space to enjoy your ice cream while taking in the lovely mountain views.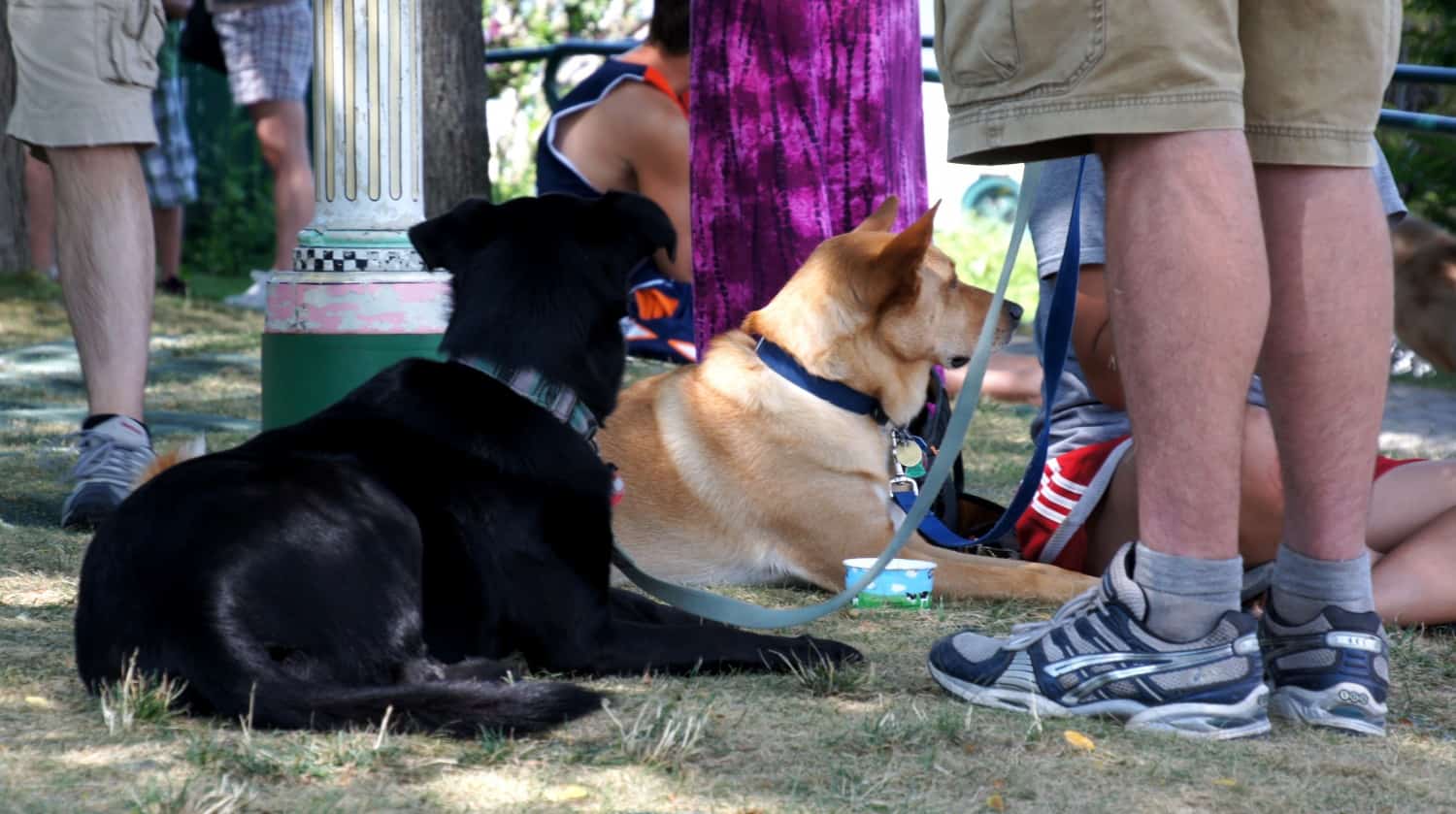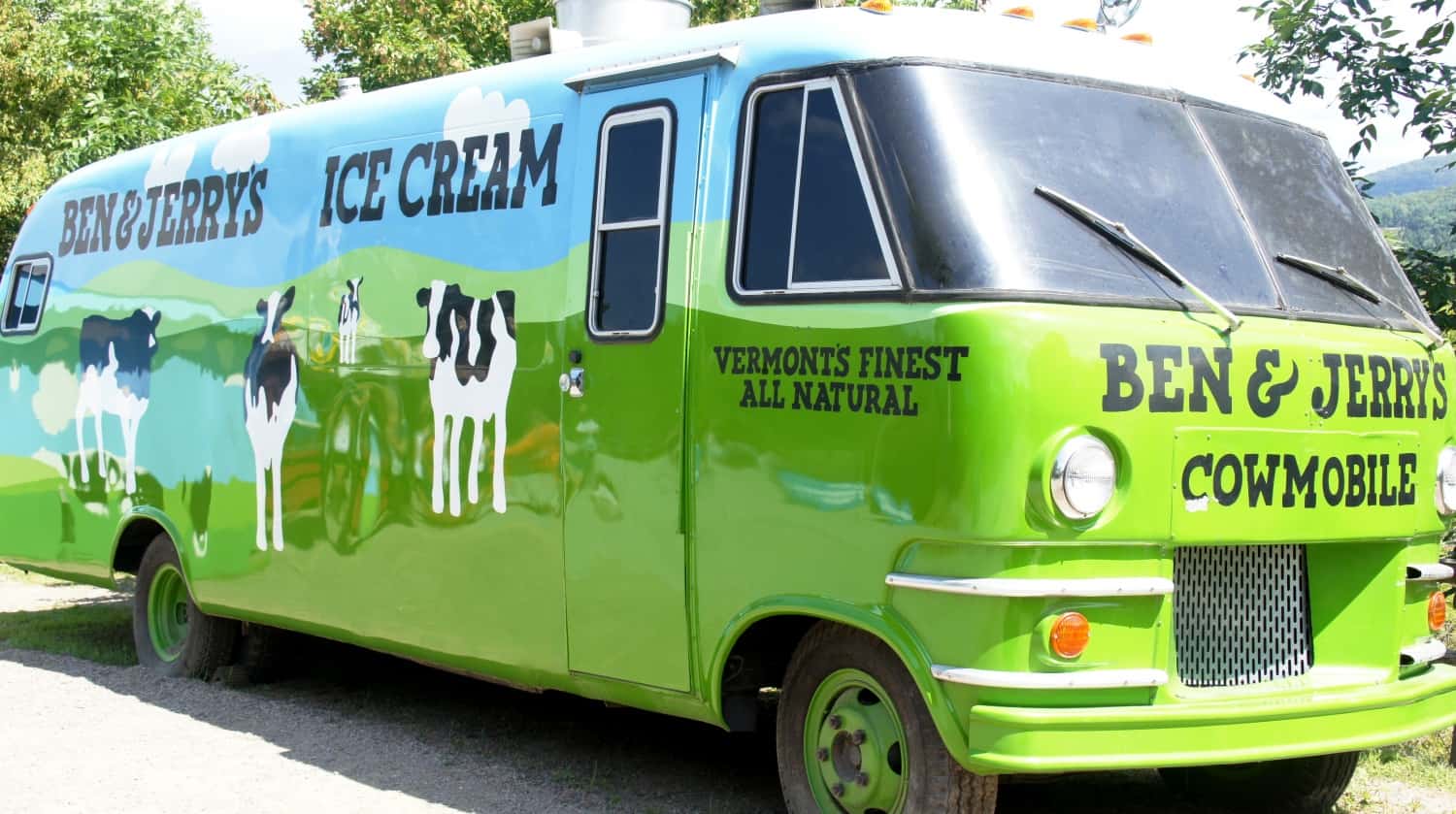 Take A Day Trip To Dog Mountain
The vision of Vermont artists Stephen and Gwen Huneck, Dog Mountain is a 150-acre off-leash playground for pups. Stephen's love of dogs ran so deep that they became the primary focus of his art. He carved them, painted them, and wrote children's books with Sally, his black Labrador Retriever, as the main character. Pieces of his artwork are now in the permanent collections of the Smithsonian Institution, the Dog Museum of America, and the American Kennel Club.
In 2000, the Hunecks opened the Dog Chapel in St. Johsbury, Vermont, forty-seven miles west of Stowe. The chapel provides a place for people whose pets have passed to remember them. Complete with a dog door, the chapel has pews with carved dogs on the ends, and stained glass windows celebrating the gifts dogs bring to our lives.
Surrounding the chapel are 150-acres open to the public where dogs can shed their leashes and run, play, and swim in the pond. There are hiking trails, secluded retreats, and views of the lovely surroundings. Pets are also welcome inside the the gallery.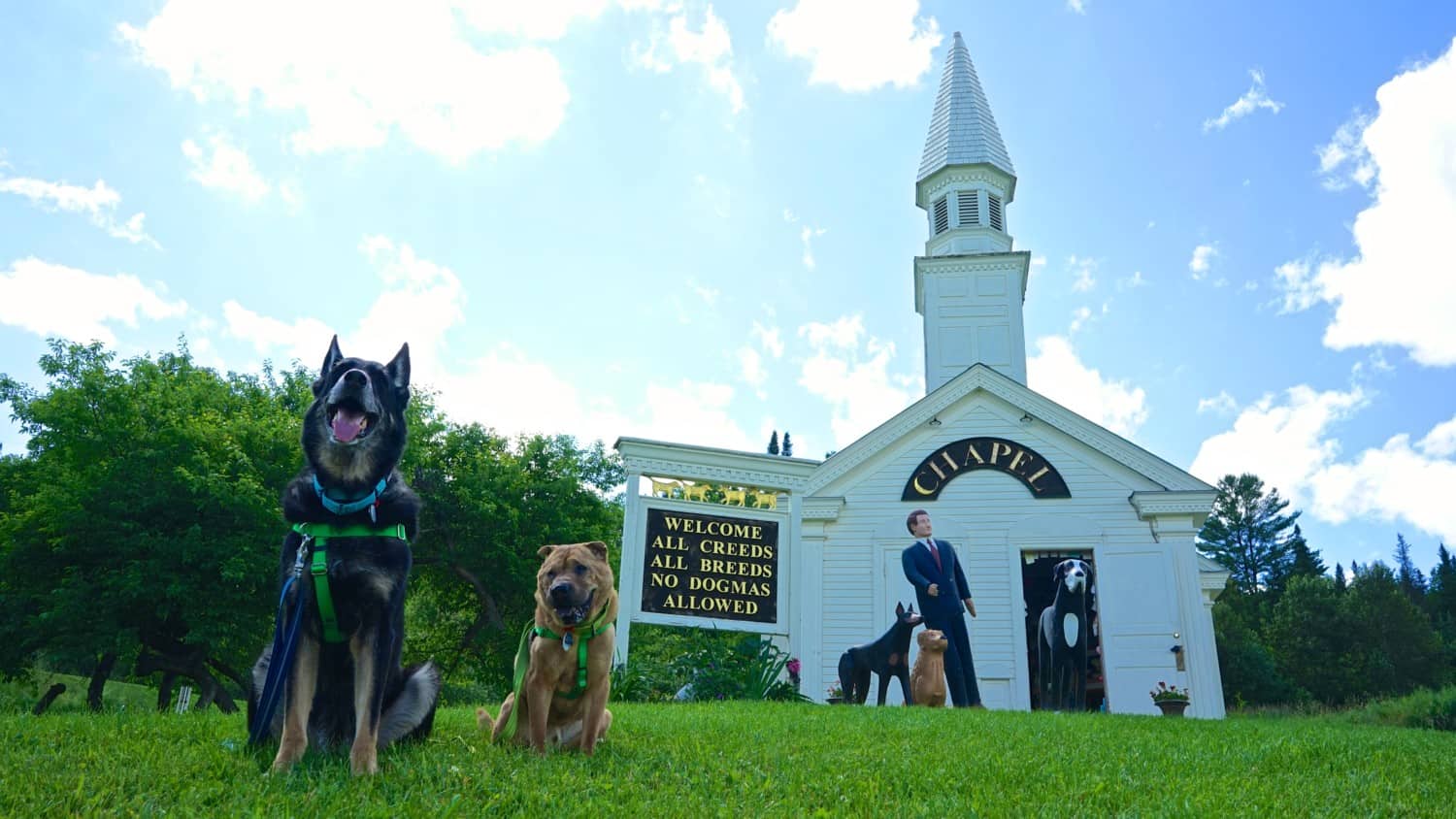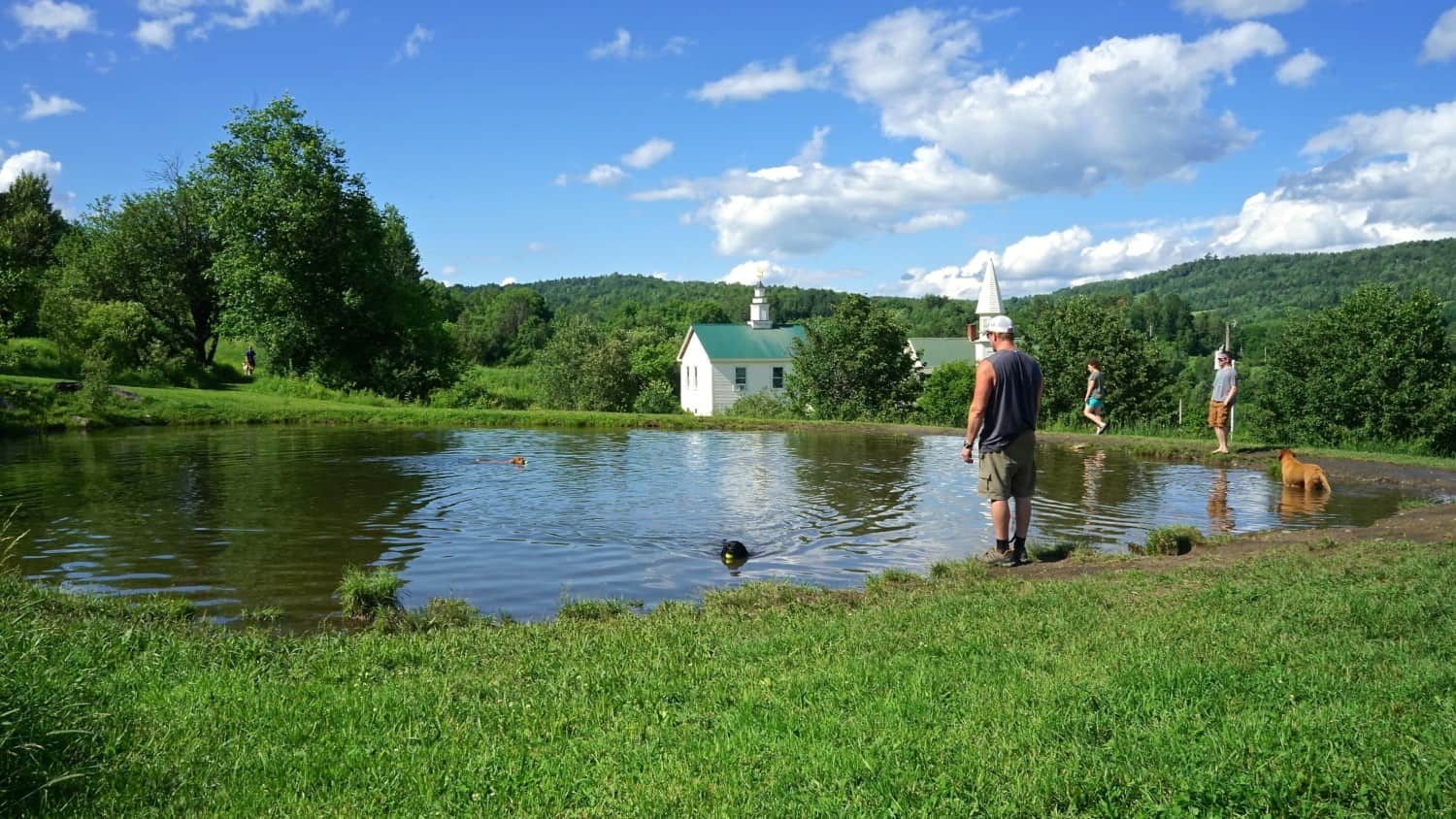 Pet Friendly Restaurants
With all the pet friendly activities Stowe has to offer, there's no question you'll work up an appetite! Here are some pet friendly restaurants you'll want to try:
The Bistro at Ten Acres (14 Barrows Road) is a 1820s farmhouse that has been transformed into a charming lodge and restaurant. Enjoy a romantic dinner on the patio with your pup and enjoy a stunning view of the rolling countryside.
READ MORE ⇒ Taking Your Dog To Pet Friendly Restaurants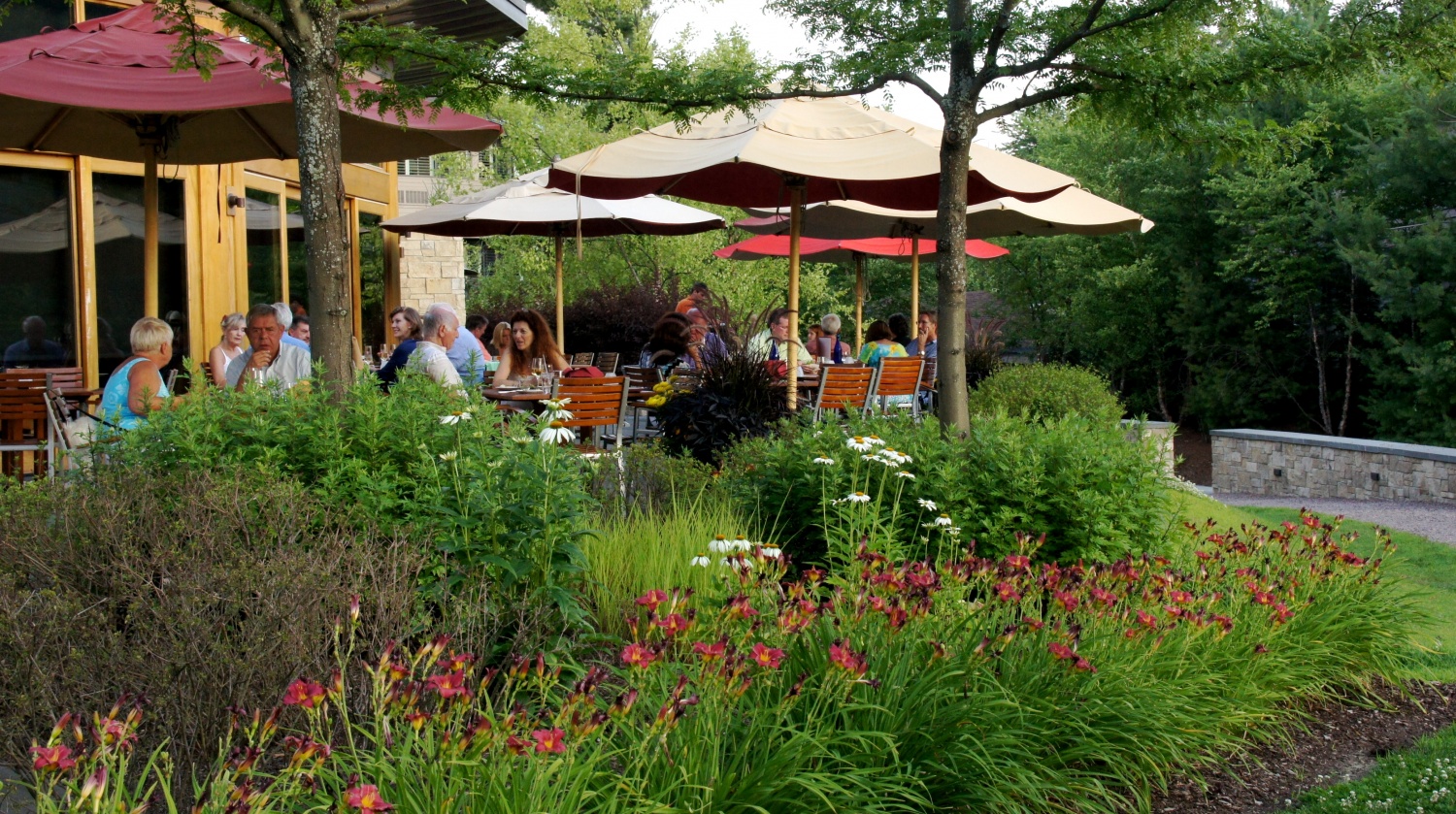 The Blue Donkey Bar (2160 Mountain Road) is best known for its burgers, but also serves BBQ and breakfast sandwiches in a laid-back atmosphere. Dogs are welcome to dine with their owners on the outdoor patio.
Doc Ponds (294 Mountain Road) provides a modern feel and serves American fare and rotating craft brews on their dog friendly outdoor patio.
Idletyme Brewing Company (1859 Mountain Road) serves a craft beers and pub-style fare. Dogs are welcome on the spacious outdoor patio.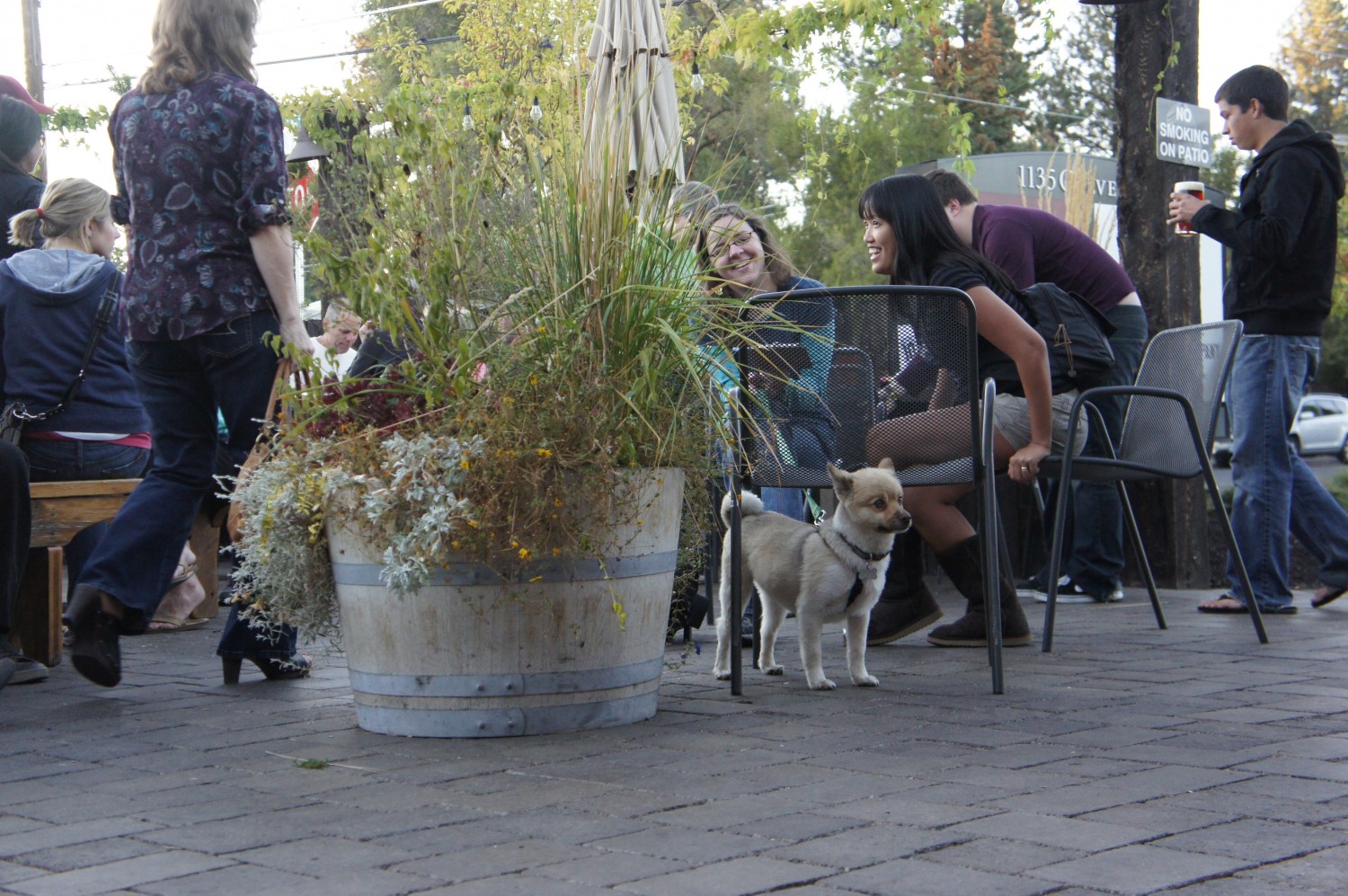 Ranch Camp (311 Mountain Rd) is a casual café and tap room in a mountain bike lodge and bike shop. Offering simple, fresh comfort food with a healthy twist, they welcome dogs in the outdoor seating area.
Stowe Sandwich Company (1669 Mountain Road) serves sandwiches, wraps, and salads, as well as breakfast items and a selection of coffee and tea. Dogs are welcome in the covered outdoor seating area.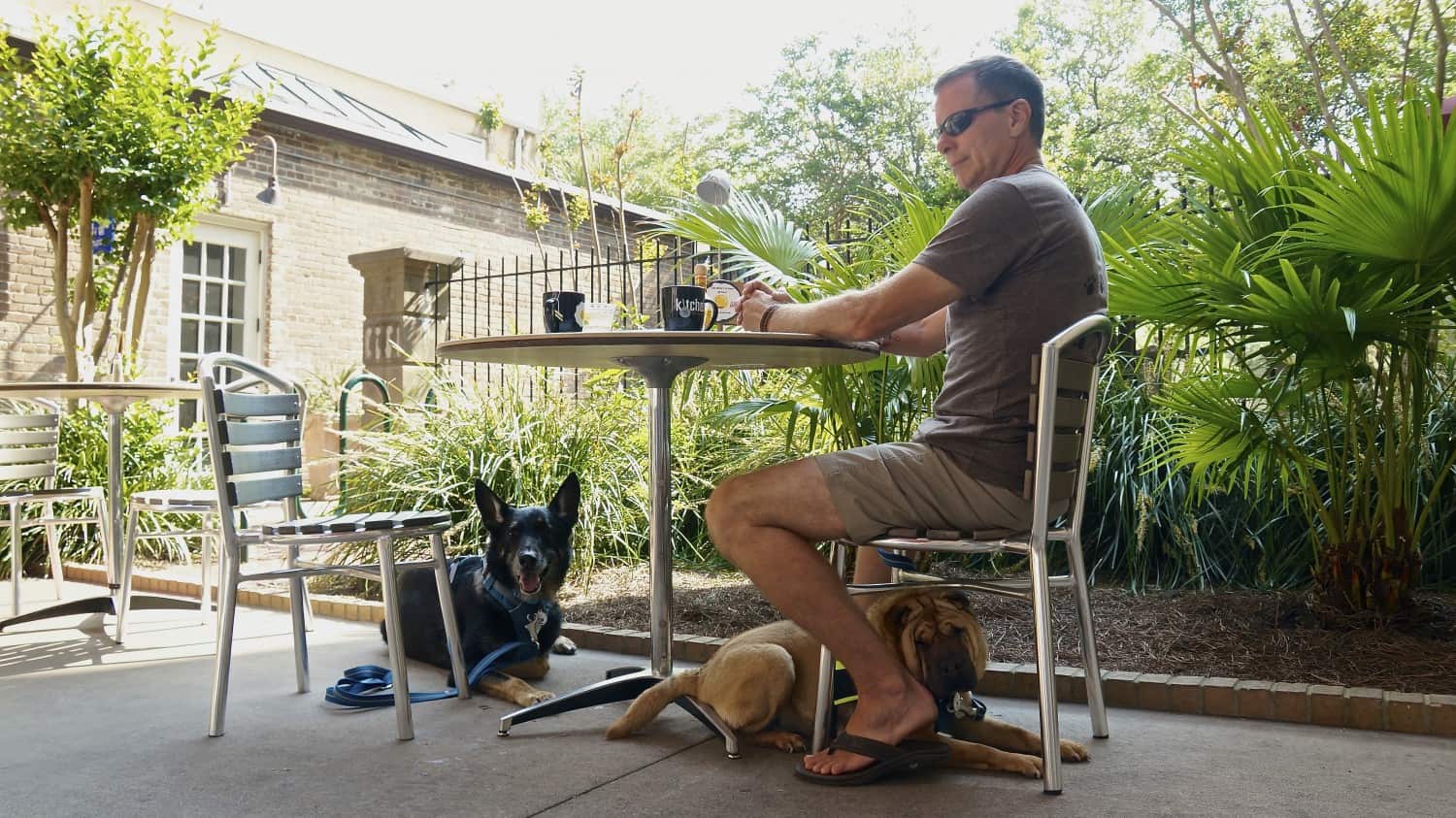 Sushi Yoshi (1128 Mountain Road) is a Japanese restaurant offering sushi, sashimi, and other Japanese dishes, as well as a selection of beer, wine, and sake. And the covered and heated outdoor seating area is dog friendly.
Von Trapp Brewery & Bierhall (1333 Luce Hill Road) is a brewery and restaurant offering a variety of Austrian-inspired food and drinks, including their award-winning lagers and ales brewed on-site. Dogs are welcome at the outdoor seating area or the inside the Bierhall at the communal tables.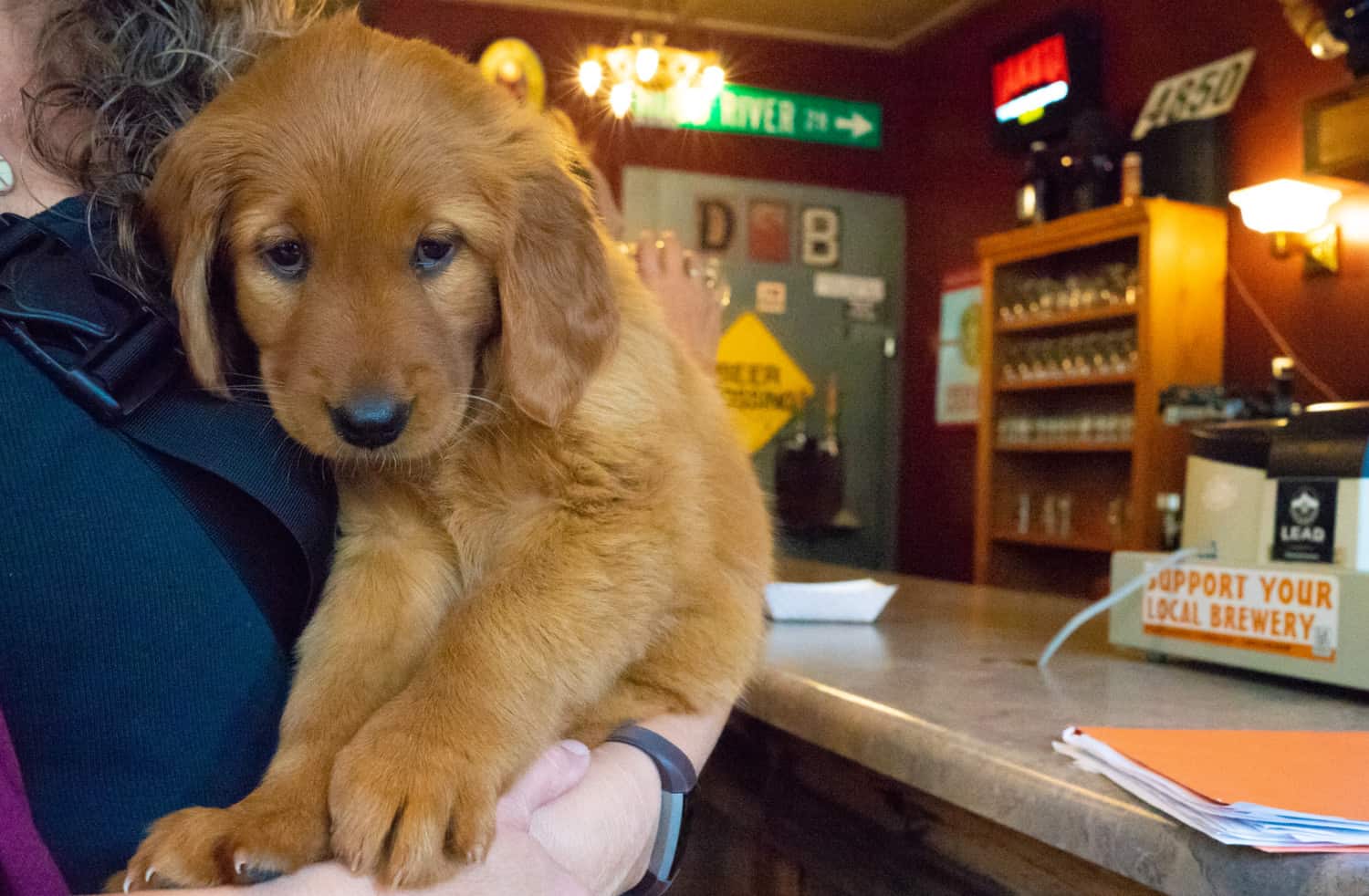 Where To Stay With Pets In Stowe
As you can see, there is plenty of pet friendly fun to be had in Stowe! So, the next thing to do is decide where you're going to stay. Stowe has a nice selection of pet friendly lodging options, including hotels, vacation rentals, and campgrounds! Below are a few of our favorites, but you can see more pet friendly options on GoPetFriendly.com.
GoPetFriendly may earn commission or revenue on some items through the links below.
Stoweflake Mountain Resort & Spa
Relax in the lap of luxury and enjoy the serene beauty of the Vermont landscape in the elegantly designed rooms and suites at Stoweflake Mountain Resort and Spa.
Pet Policy: The maximum weight for any single dog is 80 pounds, with a limit of two dogs per guestroom. If there are two dogs occupying the same room, the maximum combined weight is not to exceed 100 pounds. Pet fees are $40 per pet per day.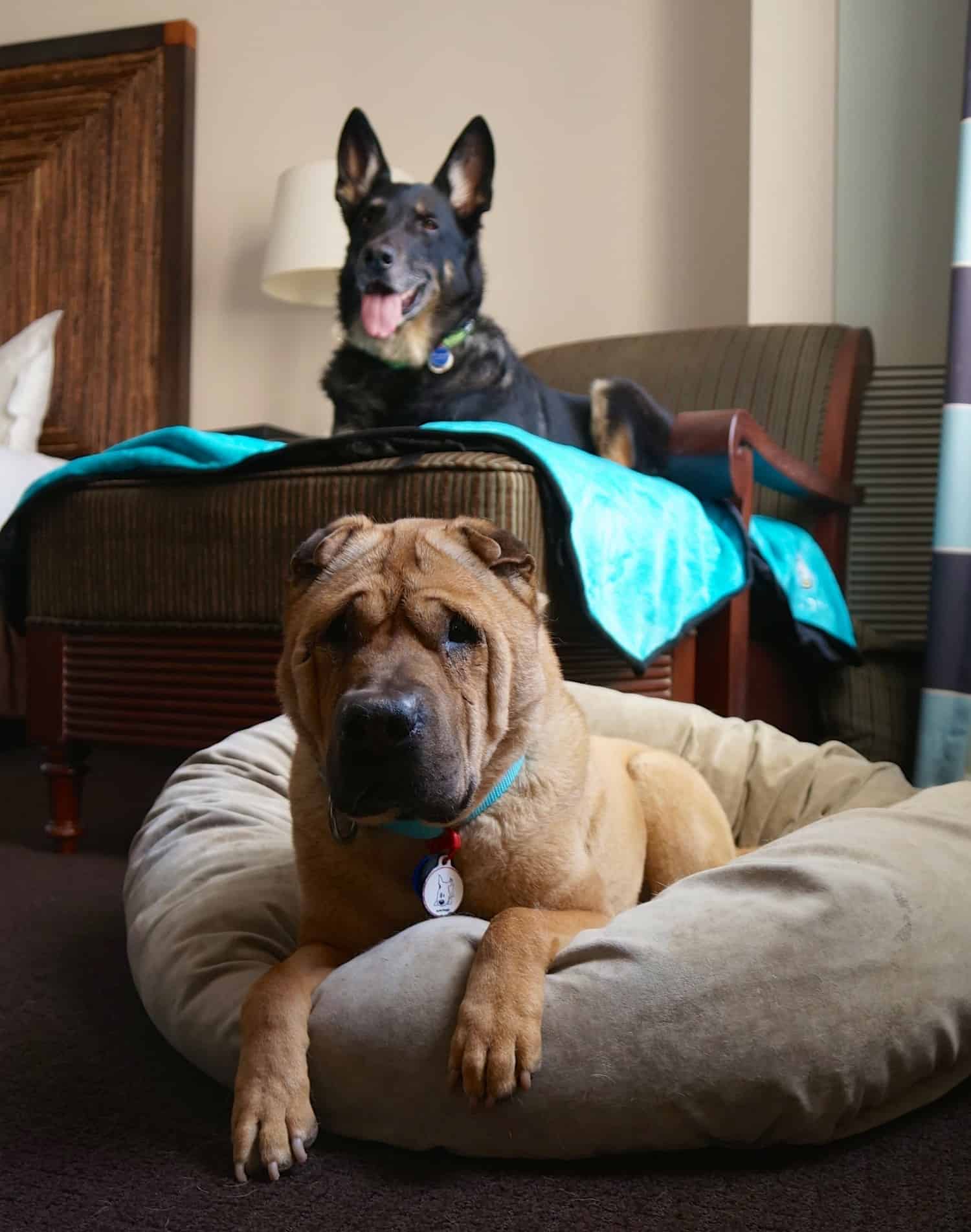 Sun & Ski Inn And Suites
Perched along the Little River and shadowed by Mount Mansfield, Sun & Ski Inn and Suites offers comfortable lodging rooms and amenities.
Pet Policy: Dogs and cats stay for free! All pets must be declared at check-in. Pets are not allowed in the condominiums at Mountainside Resort or on that property.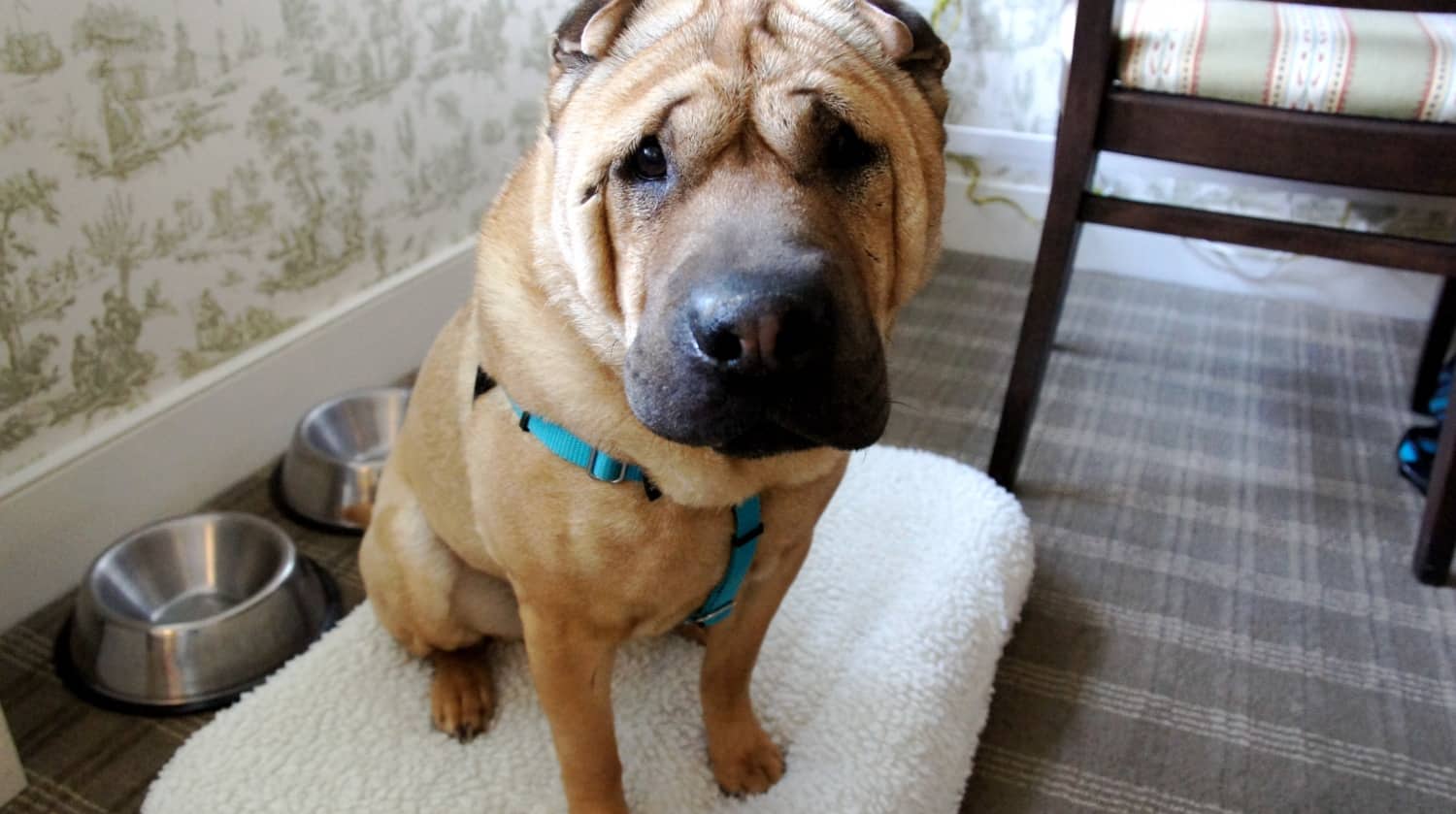 Trapp Family Lodge
Situated on 2,500 acres in beautiful Stowe, Vermont, the Trapp Family Lodge is a unique, luxury mountain resort featuring Austrian-inspired architecture and European-style accommodations.
Pet Policy: Allows dogs up to 50 pounds with a maximum of two per room. The pet fee is $75 per pet, per day. A pet-sitter can be arranged with the Front Desk in advance.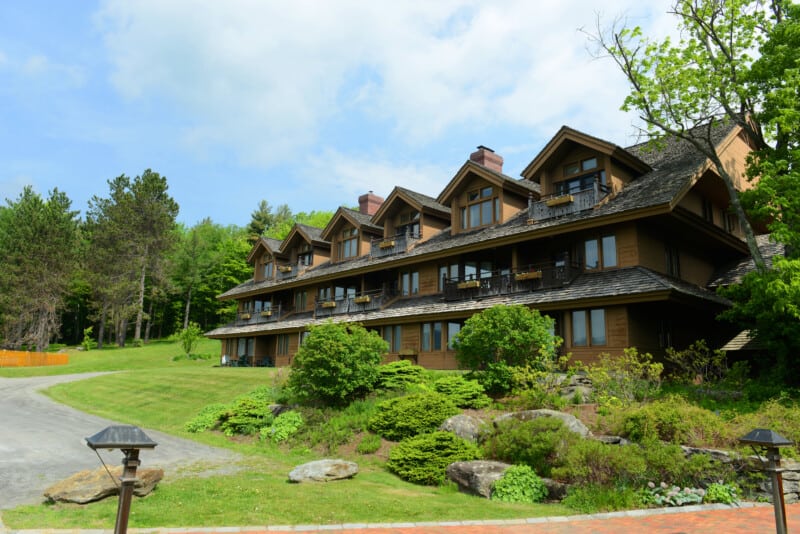 We hope our visit to pet friendly Stowe inspires you to plan a trip of your own! And if you find a few things to add to this guide during your stay, please leave us a note in the comments.

The post Guide To Pet Friendly Stowe, Vermont appeared first on GoPetFriendly.com.



Credit : Source Post